Redl Affirms Broadband, Spectrum Support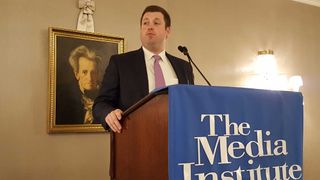 In a wide-ranging update on Federal support for broadband, wireless, cybersecurity and privacy issues — with nary a word about net neutrality or the sizzling controversy about the removal of sanctions on Chinese telecom equipment makers — the U.S. Commerce Department's top policymaker on those topics offered a status report on Thursday (May 17).
"As we work to cement our vision of the internet around the world, we're also focused on getting everyone in the United States connected," David J. Redl, assistant secretary of Commerce for Communications and Information and head of the National Telecommunications and Information Administration (NTIA), told a monthly luncheon meeting of the Media Institute. "There are still too many people across the country that lack access to reliable, affordable broadband internet service – a problem that's particularly acute in rural America."
Redl also focused on the digital divide, especially in "rural areas with difficult terrain and low population density." He criticized the "bureaucracy" which "has established expensive and lengthy application processes and regulatory reviews."
Related: Senate's CRA Passage Gets D.C. Buzzing
"That's why a key part of the administration's strategy for expanding broadband deployment is removing barriers that slow or block new projects," Redl said. "NTIA is working to improve federal coordination around this goal through an interagency working group that we co-chair alongside the Department of Agriculture's Rural Utilities Service."
He cited "federal permitting," which seeks to place broadband facilities on government-owned properties, "with the goal of streamlining permitting efforts and establishing consistency across agencies." In addition, he believes federal funding of broadband projects and leveraging federal assets for broadband deployment will accelerate the infrastructure needs of unserved communities.
Related: Senate Votes to Restore Net Neutrality Rules
"This effort, and others like it, could potentially lower the cost of buildouts and encourage infrastructure deployment in rural America," Redl said.
In his opening comments. Redl gave a shoutout to Larry Irving, his predecessor as NTIA chief during the Clinton Administration (and who was sitting in the front row). Redl credited Irving for establishing procedures for broadband and digital diversity that have continued through two decades.
Wireless Benefits
Redl also predicted that NTIA's effort to support broadband infrastructure buildouts will have help with the deployment of the next generation of wireless technology.
"Our nation's broadband needs are increasingly wireless," he said. "Whether it's 5G ... or the unlicensed technologies we place in our homes, businesses, and communities, wireless broadband technologies are paving the way for more advanced manufacturing, health care services and public safety communications."
Redl vowed that, "the entire government must work in a coordinated fashion to support the industry's 5G push."
"This support will take four forms: making spectrum available, removing obstacles to deploying infrastructure, ensuring we have a collective strategy to secure 5G networks, and collaborating on the global standards that will define how the 5G race unfolds," Redl said. But he cited "the critical functions" of federal agencies who need spectrum for national defense, atmospheric monitoring, air traffic control and space exploration.
"So while we're moving as fast as possible to get more spectrum into the hands of private sector innovators, we must balance that with the needs of our national government spectrum users," he explained. "We have been encouraged by the FCC's recent actions to ease regulations that impede deployment of wireless infrastructure, establish auction rules for the 24 and 28 GHz bands, and seek more efficient use of the 2.5 GHz band. These are the kinds of actions that will help America be the first to 5G."
During a quick audience question session, Redl described the U.S. response to Europe's new General Data Protection Regulation (GDPR) online privacy rules that go into effect next week. In particular, Redl said that NTIA is concentrating on the internet's "Who Is" feature, which he called "an important tool for law enforcement and intellectual property holder" as well as for cybersecurity researchers, "who rely on Who Is data." He said NTIA is working with other agencies to figure out how the GDPR restrictions fit into U.S. needs.
Redl acknowledged that many federal agencies are conducting "parallel efforts" as they develop communications and security projects. He insisted that NTIA "will be bringing [these assorted approaches] together for the executive branch." In particular, he cited the "holistic view" for cybersecurity, which he said will require a "global system" of integrated efforts.
Contributor Gary Arlen is known for his insights into the convergence of media, telecom, content and technology. Gary was founder/editor/publisher of Interactivity Report, TeleServices Report and other influential newsletters; he was the longtime "curmudgeon" columnist for Multichannel News as well as a regular contributor to AdMap, Washington Technology and Telecommunications Reports. He writes regularly about trends and media/marketing for the Consumer Technology Association's i3 magazine plus several blogs. Gary has taught media-focused courses on the adjunct faculties at George Mason University and American University and has guest-lectured at MIT, Harvard, UCLA, University of Southern California and Northwestern University and at countless media, marketing and technology industry events. As President of Arlen Communications LLC, he has provided analyses about the development of applications and services for entertainment, marketing and e-commerce.
The smarter way to stay on top of the multichannel video marketplace. Sign up below.
Thank you for signing up to Multichannel News. You will receive a verification email shortly.
There was a problem. Please refresh the page and try again.