FCC's Nathan Simington to Speak at IAB Conference
Virtual summit will set policy agenda for group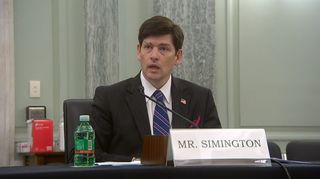 (Image credit: C-SPAN)
New Republican FCC commissioner Nathan Simington has been recruited to speak to the Interactive Advertising Bureau.
Simington, who was on the team at the National Telecommunications & Information Administration that drafted a petition to the FCC to regulate Web site content, is on the final agenda of speakers for the March 8-12 Annual Leadership Meeting, a virtual summit that will set the organization's policy agenda.
Also Read: Simington Warns of Artificial Broadband Crisis
Issues on that agenda include privacy, accountability, and the "deprecation" of third-party cookies.
Simington joins an all-star speaker lineup that includes Dr. Anthony Fauci, House Majority Whip James Clyburn (D-S.C.)--father of former FCC acting chair Mignon Clyburn--and Stacy Abrams, who helped turn Georgia blue in the last election.
Also Read: FCC's Nathan Simington Decries Capitol Violence
Simington will be batting cleanup, as it were, scheduled to speak Friday, March 12, in the afternoon.
The smarter way to stay on top of the multichannel video marketplace. Sign up below.
Thank you for signing up to Multichannel News. You will receive a verification email shortly.
There was a problem. Please refresh the page and try again.