Dow Claws Back With 547-Point Gain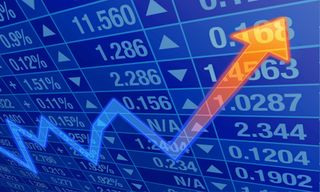 The Dow Jones Industrial Average closed Tuesday up nearly 550 points, beginning what the market hopes is a long crawl back from big losses last week.
The Dow lost nearly 1,400 points between Oct. 10 and Oct. 11 as investors bailed out of the market fearing a slowdown in the economy and increasing trade tensions. Losses continued in subsequent trading but at a slower pace on Oct, 12 (down about 67 points) and Oct. 15 (down 81 points).
The Dow finished Oct. 16 at 25,798.42, up 547.87 points, or about 2.17%, its biggest one-day percentage rise since March.
Cable stocks reaped some benefits, with stocks in the sector rising between 1% and 3%.
Comcast was the biggest gainer on the distribution side, up 2.5% to $35.96 per share on Oct. 16. Charter Communications followed, up 2.2% to $320.86 per share, and Liberty Global rose 1.5% to $26.34.
On the programming side, Viacom was the big winner, rising 3.3% to $32.83 per share, while The Walt Disney Co. rose 2.6% to $116.34; 21st Century Fox was up 1% to $45.86 each and Discovery rose 2.2% to $33.05 each.
AT&T was essentially flat at $32.38 per share as was Verizon at $53.73 per share. Dish Network increased 1.4% to $34.15 per share.
Technology stocks, battered during last week's sell-off, continued their climb back. Netflix, slated to release its Q3 earnings after the close, rose 4% to $346.59 per share; Amazon up 3.4% to $1,819.95 and Apple up 2.2% to $222.13 each. Facebook finished the day up 3.4% to $158.37 and Google closed at $1,120.02 per share, up 2.5%.
Thank you for signing up to Multichannel News. You will receive a verification email shortly.
There was a problem. Please refresh the page and try again.