Discovery Tees Off Partnership with Golf Legend Tiger Woods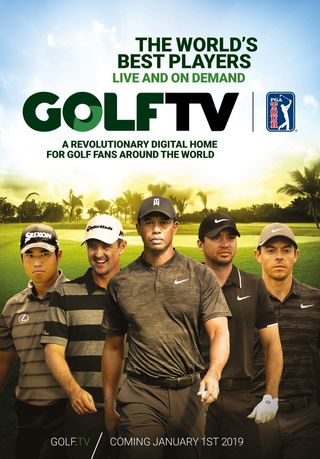 In one of the biggest developments since announcing their partnership in June, Discovery Inc, and the PGA Tour said they have reached an exclusive, multi-year global content partnership with golf legend Tiger Woods to create programming for the streaming video service.
Beginning in January, Golf TV -- the global live and on-demand video streaming service formed by Discovery and the PGA Tour -- will collaborate with the 80-time PGA Tour winner and 14-time Major champion on a wide range of programming, content creation and storytelling opportunities, aimed at giving fans a unique look into the life, mind and performance of one of the game's most unique icons.
According to Discovery, the partnership will provide fans access to Woods' practice routines, preparation and life on the road through a variety of programming showcased exclusively on Golf TV.
"I've been watching Discovery and [CEO] David Zaslav build up a global sports platform with Eurosport, the Olympics and the launch of Golf TV with us at the PGA Tour, so I think they're the perfect partner to help grow the game," Woods said in a statement. "They're global, they get sports and know how to build new, younger and big audiences. It's a perfect fit and I'm so excited to be a real partner with the Discovery Sports team."
RELATED: Tiger Woods's return to prominence lifts golf's on-screen profile
"I love the vision of Golf TV and the ambition for it to become the premier destination for golf entertainment worldwide. To have my own platform to communicate is the culmination of a lot of hard work from my team and the team at Discovery. We're going to build content for everyone, whether you've been playing golf for a long time or just starting out. I'll be sharing stories and giving insight into my approach that has never been seen before. This is such an exciting time for golf and for me, so to be part of the vision to grow the game all around the world is fantastic. I can't wait to share my knowledge on Golf TV," he continued.
Among the content Woods and Golf TV are collaborating to develop are:
· Weekly practice and instructional videos;
· Exclusive access into Tiger's preparation routines;
· Behind-the-scenes access before and after PGA Tour rounds;
· Unique and exclusive post-round commentary.
The content will be exclusively owned by Golf TV globally, including in the United States, where Discovery has the opportunity to execute an owned or partner distribution strategy.
"I am excited to welcome Tiger to the Discovery family and to Golf TV, a true superstar joining our company of world-class storytellers and brands," Discovery CEO David Zaslav said in a statement. "At the heart of Discovery is high-quality storytelling, told through the most authentic, credible and trusted voices. Tiger is the ultimate example of a world-class athlete and cultural figure with whom audiences are enamored, and follow closely around the world. Our global partnership with Tiger is a perfect example of our strategy to collaborate exclusively with top talent to extend global media platforms, and take advantage of our international distribution and technology infrastructure and aggregate audiences and build long-term value."
The partnership with Golf TV comes on the heels of a comeback season that saw Woods return to form, culminating in a win at the 2018 Tour Championship in September.
Related: Phil, Tiger Event a Win for PPV Industry Despite Refunds
"It's a privilege for us to welcome Tiger to the Golf TV team," Discovery Golf president and general manager Alex Kaplan said in a statement. "No one else in the game resonates globally the way Tiger does or has the global fan base, and he has great wisdom to share, on and off the course. We're thrilled to give him the global platform to do just that, and to provide our audience in more than 200 markets and territories a closer look at Tiger on the greens and behind the scenes."
Golf TV will show more than 2,000 hours of live action each year as well as a wide range of premium content on-demand on every screen and device. Live coverage of the PGA Tour outside of the U.S. will include The Players Championship, the FedExCup Playoffs and the Presidents Cup.
The smarter way to stay on top of the multichannel video marketplace. Sign up below.