Cox's Dosty Hedges Takes Home the Gold in SCTE Cable-Tec Games
28 cable-system techs showcased their skills in yearly competition held at Cable-Tec Expo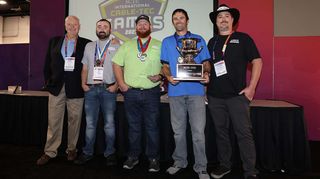 (Image credit: Robb Cohen Photography)
Dosty Hedges of Cox Communications was the overall winner of the Society of Telecommunications Engineers's International SCTE Cable-Tec Games, earning the member of the SCTE Cactus chapter in Mesa, Arizona, a gold medal at the event held October 19 at SCTE Cable-Tec Expo in Denver.
Hedges was tops in a field of 28 competitors overall from SCTE chapters in the U.S. and Canada who competed in seven events designed to showcase a variety of cable engineering skills.
A pair of Comcast techs also earned Silver and Bronze honors as overall winners: Tom Hawk and Ryan Moss, both members of the SCTE's Washington state-based Mount Rainier chapter.
The Cable-Tec Games have been staged at Cable-Tec Expo since 1981. SCTE chapters and meeting groups at all levels of the organization host more than 500 local, state and regional Cable-Tec Games competitions to determine who will represent each chapter or region.
This year's games took place at a new venue that debuted at Expo 2023, the Technical Training Theater, or T squared. The three T's in the name stand for three pillars of technical excellence — training, teamwork and talent, SCTE said.
Individual event winners in the 2023 International SCTE Cable-Tec Games were:
Cable splicing: Shannon Cameron, Ritter Communications (first place); Ryan Moss (second); and Lamont Williams, Comcast (third).
Fiber splicing: Dosty Hedges (first), Tom Hawk (second) and Lamont Williams (third).
Meter reading: Charlie Brown, Comcast (first); Eric Tracy, Charter Communications (second); and Ryan Moss (third).
MTDR: Dosty Hedges (first); Tom Hawk (second); and Bryan Huffstutler; Madison (third).
Drop connection: Tom Hawk (first); Noah Collins, Cable One (second); and Dosty Hedges (third).
OTDR: Tom Hawk (first); Dosty Hedges (second); and Bryan Huffstutler (third).
Cable Jeopardy!: Bryan Huffstutler (first); Rich Beversdorf, Charter (second); and Dosty Hedges (third).
Competitors representing SCTE chapters were: Sean Wingblade, Golden Gate chapter; Donovan Sorenson, Rocky Mountain chapter; Dosty Hedges and Timothy Palmer, Cactus chapter; Noah Collins, Snake River chapter; Ryan Moss and Tom Hawk, Mt. Rainier chapter; Aaron Cox, Hill Country chapter; AJ Campos, Sooner State chapter; Bryan Huffstutler, Gateway chapter; Stephen Rangel, Iowa Heartland chapter; Rich Beversdorf, Badger State chapter; Nathan Krick, North Country chapter; Lamont Williams, Great Lakes chapter; Ian Burnett, Central Indiana chapter; Jeff Adkins, Music City chapter; Shannon Cameron, Razorback chapter; Charlie Boivin, Chattahoochee chapter; Christopher Woehrle, Central Florida chapter; Patrick Powers, Crystal Coast chapter; Jim Egloff, Bluegrass chapter; Joel Moore, Chesapeake chapter; Paul Perrotta and Jim Tulley, Penn-Ohio chapter; Eric Tracy, New England chapter; and Matt Berti, Daryl Fummerton and Jesse Hofland, Ontario chapter.
The smarter way to stay on top of the multichannel video marketplace. Sign up below.
Mike Demenchuk has served as content manager of Broadcasting+Cable and Multichannel News since 2016. After stints as reporter and editor at Adweek, The Bond Buyer and local papers in New Jersey, he joined the staff of Multichannel News in 1999 as assistant managing editor and has served as the cable trade publication's managing editor since 2005. He edits copy and writes headlines for both the print magazine and website, wrangles the occasional e-newsletter and reviews TV shows from time to time. He's also the guy to bother with your guest blog, Fates & Fortunes and Freeze Frame submissions.