Charter Stock Dips 9% as Dow Falls 400 Points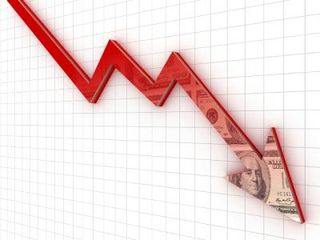 Charter Communications shares fell nearly 10% on Friday despite reporting better than expected Q3 results and amid an overall market sell-off that forced the Dow Jones Industrial Average down more than 400 points in early trading.
Charter shares fell as much as 9.7% ($30.44 each) to $284.37 in early trading Friday. The stock was trading at $291.12 per share, down 7.5% ($23.69 each) by 10:55 a.m. on Oct. 26. At that same time, the Dow was down about 445 points.
The company had reported better than expected Q3 customer results before the market opened, but a miss on cash flow growth – up 3.5% instead of consensus estimates of a 5% rise and a slight miss on revenue, $10.9 billion versus consensus of 10.96 billion – apparently was enough to trigger a sell-off.
In a research note before the market opened, Evercore ISI media analyst Vijay Jayant said he expected Charter to trade flat to down on Friday despite the steady Q3 results, mainly because of comparisons to Comcast, which reported record Q3 high-speed data customer growth Thursday.
The rest of the cable distribution sector was fairly unscathed in the Dow's descent early Friday – most cable stocks were down between 1% and 2% in early trading. Altice USA, which has yet to report Q3 earnings, was down about 5.8% (96 cents) to $15.42 each at 10:55 a.m. Oct. 26, perhaps in anticipation of further bad news for cable distributors.
Disappointing tech stock earnings triggered the Dow plunge, as Amazon and Google each reported lower than expected sales numbers. Amazon shares were down as much as 10% early in the trading session and Google fell as much as 5.4% in early trading
Charter said in a conference call with analysts that it is winding down its integration of Time Warner Cable and Bright House Networks, which it purchased in 2016, and should be finished by the end of the year.
That integration, which included converting much of the TWC and Bright House legacy footprint to digital, buying additional set-top boxes and stepping up broadband speeds, required additional capital expenditures and disrupted the overall operations, chairman and CEO Tom Rutledge told analysts Friday. But those pressures will be substantially eased as the integration is completed.
"We spent a lot of money to upgrade the network to all-digital," Rutledge said.
Rutledge said TWC's analog plant had three negative attributes: it ate up spectrum that could otherwise be used for broadband and IP video, it had an inferior picture, and it required deploying new set-tops to every home to fix it.
"That capital to buy the set-top boxes, to roll the trucks and the disruption in the operating business and the impact that has on phone traffic and service calls and therefore the ability to focus on sales, all of that impacted both 2017 and 2018," Rutledge said.
At the same time, Rutledge was optimistic that recent weakness in the satellite and virtual MVPD sector, could translated into stronger numbers for cable going forward. AT&T said its DirecTV satellite TV service lost about 359,000 net new subscribers in Q3 and its OTT service DirecTV Now added a disappointing 49,000 customers.
"I've said all along that I thought the shrinking of the satellite business would benefit our video business, but then you've got these other trends as well, including recent price increases in the virtual MVPD space, which probably impacted their results too," Rutledge said. "…Satellite is a very high-priced single product, with $100 ARPUs in a world where the content is devalued. I think you'll see continued erosion of that business, and some of that will shift to us."
Thank you for signing up to Multichannel News. You will receive a verification email shortly.
There was a problem. Please refresh the page and try again.