Apple Formally Launches 'Apple One' Subscriptions Bundle, New Fitness Service
Subscribers can bundle Apple TV Plus, Apple Music, Apple Arcade, Apple News Plus and iCloud storage starting at $15 a month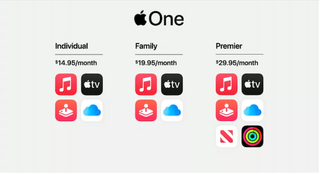 (Image credit: Apple)
Apple launched a $29.95-a-month bundle featuring all its subscription services, including a new workout service called Fitness Plus, as part of a somewhat different fall hardware announcement.
The pre-recorded event at Apple Park in Cupertino also featured refreshed versions of its iPad line, especially the long-neglected iPad Air, and two new models of the Apple Watch, Series 6 and a lower-cost SE line.
Not included in the day's announcements was any news about the company's iconic iPhones, which reportedly have been hampered by pandemic-caused production delays. Normally, the year's new iPhones dominate Apple's traditional September announcement event. News about an expected four new iPhone models, all with 5G mobile technology, is now expected next month, possibly slightly impacting the company's holiday season earnings.
Also read: 'Apple One' Initiative Seeks to Bundle Services like Apple Music and Apple TV Plus
The Apple One subscription bundle announced Tuesday comes in three flavors, from a $14.95-a-month "Individual" plan to a $29.95-a-month "Premier" plan. All three offerings include Apple's TV Plus video subscription, plus Apple Music, gaming service Arcade, plus varying amounts of iCloud storage and how many accounts get access.
The premier plan adds the Fitness Plus service, which otherwise would cost $9.99 a month, and News+, the company's news and magazine service, and makes all the bundled services available for up to six accounts.
"Apple One gives you all the services you need in one package," said Lori Malm, Apple Director, Services.
As demand for iPhones has flattened, Apple has placed increasing emphasis on growing its services revenues, surpassing a goal set three years ago of $50 billion annually in subscription revenues. In the company's last quarterly earnings announcement, Apple said its services division generated more than $13 billion in revenues.
The Fitness Plus service could further boost subscription efforts, especially with the ongoing pandemic complicating the reopening of gyms, yoga facilities and other workout centers for millions.
Fitness Plus will feature multiple genres of Apple-curated music, with workouts of 10 different sectors (from high-intensity training and dance to meditative cool-downs and yoga) led by a team of professional fitness trainers. New workouts will be created weekly.
The new service also integrates with the company's best-selling watches in a new way, gathering workout data and displaying it on the watch face and on new apps for connected Apple TVs, iPads and iPhones that are playing back the workout as the user follows along.
As has been the company's habit during public events in the months since Apple TV+ launched Nov. 1, Apple said little about its streaming service, other than to note it had received 18 Emmy nominations.
The day's announcements separately featured the Apple Watch Series 6, at prices beginning at $399, with a lower-cost, somewhat less capable new SE line starting at $279. The company will continue to offer its older Series 3 watches at $199. Orders are available immediately, with deliveries beginning Friday.
New functionality includes a family tracking app, clearly positioned for the lower-cost devices, that would allow people to check on children or older family members who don't have an iPhone, including with a sudden-fall detector app.
The Series 6 also will feature an altimeter sensor to track changes in altitude, and a pulse oximeter sensor that uses infrared to estimate blood-oxygen levels in 15 seconds.
Low-cost pulse oximeters have been a hot commodity during the pandemic, because dropping blood-oxygen percentages can be an early warning of issues from COVID-19 and other health problems. Those lower-cost devices, however, have been criticized on review sites for low accuracy.
The company also significantly updated its full-size iPad line, beginning with an eighth-generation 10.2-inch iPad with much faster CPU and graphics-processing chips, Apple Pencil and keyboard compatibility and more, beginning at $329.
The company touted the power of the new iPads' A14 Bionic processor. A new Pencil-related technology, Scribble, will be able to interpret handwriting as text among other tricks. The company also showcased machine-learning capabilities in the newly added Neural Engine chip for powering apps for photo editing, gesture-controlled music DJing, and multi-player games.
As with the Watches, the new iPads are available for order immediately, with deliveries beginning Friday.
Separately, the company updated its lightweight Air model, too, with five colors, a much better screen, and much more powerful chips.
In a likely harbinger of features on the next iPhones, the TouchID log-in system has been moved off the front face of the new iPad Airs to the on-off button on the side. That will provide more screen space in the same 10.9-inch device footprint.
Apple shares were up slightly on the day's announcements, weeks after the company hit record high prices that valued the company at more than $2.2 trillion, followed by a 4-for-1 stock split on Aug. 30. Shares dropped notably earlier this month, part of a broader pullback in tech stocks leaving the company valued at slightly less than $2 trillion.
The smarter way to stay on top of the streaming and OTT industry. Sign up below.
David Bloom of Words & Deeds Media is a Santa Monica, Calif.-based writer, podcaster, and consultant focused on the transformative collision of technology, media and entertainment. Bloom is a senior contributor to numerous publications, and producer/host of the Bloom in Tech podcast. He has taught digital media at USC School of Cinematic Arts, and guest lectures regularly at numerous other universities. Bloom formerly worked for Variety, Deadline (opens in new tab), Red Herring, and the Los Angeles Daily News, among other publications; was VP of corporate communications at MGM; and was associate dean and chief communications officer at the USC Marshall School of Business. Bloom graduated with honors from the University of Missouri School of Journalism.
The smarter way to stay on top of the streaming and OTT industry. Sign up below.
Thank you for signing up to Next TV. You will receive a verification email shortly.
There was a problem. Please refresh the page and try again.