When the Living Room TV Doesn't Matter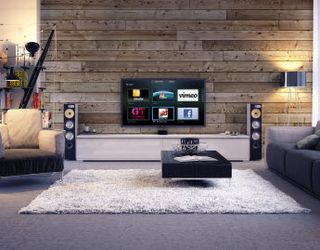 Three new studies dramatically emphasize the rapid adoption of "non-traditional" viewing and the decline of the "TV-centric living room." At the same time the research underscores how second-screen usage, especially during special events such as the Super Bowl, are attracting more viewers than the naysayers want to believe.
In the U.K., for example, only 50% of adults online "consider the TV set as the focal point of their living rooms," and 70% of adults routinely used a connected device while watching TV, the Internet Advertising Bureau UK found in a recent study. Among British viewers aged 16 to 34, 87% are using a second screen while in front of a TV set.
Although the data represent the current British experience, the numbers are comparable to North American usage. The situation should also spur programmers and operators to develop multiscreen approaches to content and advertising.
"Second screening is ingrained to such a degree that all screens are now equal; there's no hierarchy, only fragmentation of attention – actually switch-screening is a much more accurate term," said Tim Elkington, the IAB-UK's chief strategy officer.
"Connected devices have changed the living room and will continue to do so, and advertisers must plan for the living room of tomorrow," Elkington added. "This requires a rethink about how to command attention in the living room because the opportunity to do so is far more limited, fragmented and competitive than ever before."
The IAB UK analysis also tracked viewers' various activities during commercial breaks. They most frequently turn to other online activities via their connected devices (35%). followed by talking to someone in the room (15%), leaving the room (13%) and changing the channel (8%).
To emphasize the U.Kk study, two reports on U.S. Super Bowl viewing attested to the non-traditional viewing patterns -- despite some problems with the streaming video delivery of the big game.
Think With Google,an advertising research unit within the media giant, monitored the ways in which U.S. TV viewers interacted with Super Bowl 50 and found that 82% of ad-related searches conducted during the game telecast were done on mobile phones, compared with 7% on tablets and 11% on desktop computers.
Separately, Localytics tracked the average number of apps launched during the Super Bowl by mobile users. It found that app usage ran high throughout the game, with multitasking viewers using an average of 3.2 social networks and 1.9 sports apps.
Significantly, the distraction-seeking second-screen users also launched 2.4 music apps and 2.2 entertainment apps while they were tuned in to the Super Bowl, according to Localytics' research. It found that the great length of "time in app" (measured by average app usage within each hour period) occurred at just before the actual start of the game. The peak average time in app was 8.7 minutes with a spike in usage during Lady Gaga's performance of the National Anthem.
The Localytics data showed that after 7 p.m. ET, fans began to spend less time in apps, "likely to focus on the fast-moving game."
Although these studies, from both sides of the Atlantic, are merely the latest entrants in the ongoing war of dueling data about multiscreen engagement and platform preferences, they add new evidence about the shifting preferences and screen savvy of a growing audience sector.
Contributor Gary Arlen is known for his insights into the convergence of media, telecom, content and technology. Gary was founder/editor/publisher of Interactivity Report, TeleServices Report and other influential newsletters; he was the longtime "curmudgeon" columnist for Multichannel News as well as a regular contributor to AdMap, Washington Technology and Telecommunications Reports. He writes regularly about trends and media/marketing for the Consumer Technology Association's i3 magazine plus several blogs. Gary has taught media-focused courses on the adjunct faculties at George Mason University and American University and has guest-lectured at MIT, Harvard, UCLA, University of Southern California and Northwestern University and at countless media, marketing and technology industry events. As President of Arlen Communications LLC, he has provided analyses about the development of applications and services for entertainment, marketing and e-commerce.
The smarter way to stay on top of the multichannel video marketplace. Sign up below.
Thank you for signing up to Multichannel News. You will receive a verification email shortly.
There was a problem. Please refresh the page and try again.