What We Watch, Where We Watch It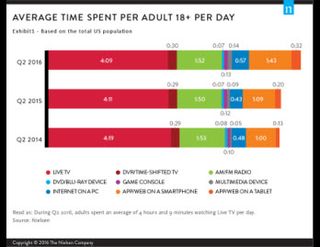 It's easy to relish the summary finding in Nielsen's Total Audience Report, which concludes that "in the expanding world of smart devices and the seemingly endless amount of sites and apps available, traditional means of media still hold their own."
In other words Nielsen's observation for the second quarter matches the results of many other recent media consumption reports: TV is still America's dominant, favored platform.
But you don't have to dig very deeply into the Nielsen data or look very far beyond it to see the shifting patterns emerging at a quickened pace. For example, Nielsen's report, which compares second-quarter data from 2014, 2015 and 2016, points out that the time users spend daily on smartphone apps or websites jumped by more than 50% -- from 1 hour to 1 hour, 43 minutes -- in the past two years, while TV viewing time dropped only 10 minutes per day (4:19 to 4:09) and DVR usage stagnated at about 30 minutes. Time spent using the Internet on a computer crawled up from 48 minutes two years ago to 57 minutes this year, Nielsen said.
The slightly slowing pace of TV viewing is more than replaced by attention to smartphone screens (and less so to PCs), albeit this particular Nielsen report did not tabulate simultaneous screen usage when a viewer could be "watching" TV and an online/mobile app at the same time.
Nielsen acknowledged that despite a slight decline in the number of TV channels available to cable and satellite viewers (still just over 200), the average TV channel options constitute only a fraction of what's available via digital apps or websites, "so consumers are using more of them." On average, adults visit about 55 websites via PCs, use 28 apps and visit 44 sites via smartphones, and use 14 apps via tablets, according to the latest quarterly data.
Perhaps most significantly, Nielsen said that however many TV channels are available, the typical household still only watches 9.6% of them.
Meanwhile, Parks Associates, in its "Disruption in Video Sourcing and Production" research report, found that nearly 35% of U.S. broadband households watch user-generated video on sites like YouTube, Vimeo and DailyMotion, more than 10 days per month. Three-fourths of U.S. broadband households access this content at least once per month, and -- back to the growing reliance on mobile access -- about 13% of U.S. broadband consumers said they have watched live-streamed video on a mobile app.
The study also identified growing convergence between traditional media and Internet video and the impact of streaming technologies, including live streaming through mobile apps such as Facebook Live and Periscope.
Parks found that men watch user-generated video online more frequently than women, with men watching 11 days per month compared with less than nine days for women. And 22% of respondents said they usually use an ad blocker to circumvent online video advertising while watching.
"Competition for customers and revenues will become even more intense in the future," said Brett Sappington, senior director of research at Parks Associates. "New personalization technologies are driving simplified authentication, increased consumption, greater viewer engagement and enhanced revenue generation."
Yet another recent study further affirmed the migration of the crucial millennial audience to mobile platforms. In its "2016 Smartphone User Behavior Report: Millennials & Their Smartphone Habits," Coupofy, an online discount coupon dealer, found that social media -- not traditional news sources -- are by far the most popular ways that young audiences keep up on headlines: 55% of millennials go to social media apps and sites on smartphones for morning news, compared with 14% who browse news sites. More than two-thirds of millennials consume news through Facebook, while Twitter is the "primary news source for twice as many high school students as entrepreneurs."
And looking even farther forward, both mobile-centric Instagram and Twitter are more popular among iGen (also called Generation Z or Post-Millennials, those born after the year 2000) than among GenY millennials. As always, that raises the question of whether these social-media-focused youths will grow into conventional media consumption patterns or if their future is being cemented beyond the wired world.
To answer that question, look at the top Coupofy finding: 18% of young respondents who browse news first thing in the morning "think their smartphones made them smarter."
Contributor Gary Arlen is known for his insights into the convergence of media, telecom, content and technology. Gary was founder/editor/publisher of Interactivity Report, TeleServices Report and other influential newsletters; he was the longtime "curmudgeon" columnist for Multichannel News as well as a regular contributor to AdMap, Washington Technology and Telecommunications Reports. He writes regularly about trends and media/marketing for the Consumer Technology Association's i3 magazine plus several blogs. Gary has taught media-focused courses on the adjunct faculties at George Mason University and American University and has guest-lectured at MIT, Harvard, UCLA, University of Southern California and Northwestern University and at countless media, marketing and technology industry events. As President of Arlen Communications LLC, he has provided analyses about the development of applications and services for entertainment, marketing and e-commerce.
The smarter way to stay on top of the multichannel video marketplace. Sign up below.
Thank you for signing up to Multichannel News. You will receive a verification email shortly.
There was a problem. Please refresh the page and try again.