Weather Channel Parent Is First Partner in IBM $3B IoT Venture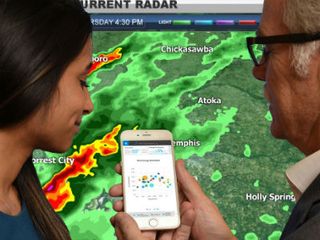 The Weather Company and IBM have launched a "global strategic alliance" that will integrate real-time weather "big data" into an array of services, primarily aimed at business/professional customers but also affecting data collection and delivery via TWC's subsidiary The Weather Channel and other media outlets. 
The deal is a big win for IBM, since The Weather Company will shift its vast weather data services platform to the IBM Cloud, where it will be integrated with IBM analytics and cloud services. TWC had primary used Amazon Web Services for its cloud computing requirements.
The TWC/IBM alliance is the first connection in IBM's plan to invest $3 billion during the next four years in an Internet of Things (IoT) unit that will develop a portfolio of cloud services, software and related intellectual property, according to Bob Picciano, senior vice president, IBM Analytics. "The Weather Company and IBM partnership can be a catalyst to making critical business systems even smarter," he said.  Financial details of the TWC/IBM alliance were not revealed.
Initial plans call for WSI, TWC's professional services subsidiary, to provide data to IBM, which will combine live weather forecasting with a range of business data, providing value-added services to corporate users such as media, aviation, energy, insurance, agribusiness and retailers.
The companies said that their collaboration of IoT and cloud computing will enable the venture to collect and process information from more than 100,000 weather sensors, aircraft and drones, millions of smartphones, buildings and even moving vehicles. WSI's forecasting system ingests and processes data from thousands of sources, resulting in approximately 2.2 billion unique forecast points worldwide, and averages more than 10 billion forecasts a day on active weather days.
In addition to televised forecasts, the WSI data powers weather apps for Apple, Google, Microsoft and others.
"Combining weather data with traditional business data and rich data from an unprecedented number of Internet of Things (IoT) enabled systems and devices will fundamentally transform enterprise decision-making," the companies said in a joint announcement. 
The deal underscores the way that some content vendors with roots in the media industry are finding new ways to exploit their business-to-business capabilities as well as leveraging new IoT tools to create targeted services.
The Weather Company is owned by a consortium that includes NBCUniversal and the private equity firms The Blackstone Group and Bain Capital.
IBM's new $3 billion commitment to IoT and Big Data projects affirms recent indications that the computer services behemoth is accelerating its activities into the Internet of Things. In late February, IBM and Juniper Networks revealed plans to collaborate on a project that could cover IoT applications, especially for predictive analytics that would improve mobile experiences.  Last October, IBM teamed up with Twitter in a deal that is intended to use IBM's data-analysis capabilities to mine information from Tweets; however that relationship is not believed to involve IoT.
The smarter way to stay on top of the multichannel video marketplace. Sign up below.
Thank you for signing up to Multichannel News. You will receive a verification email shortly.
There was a problem. Please refresh the page and try again.