Watching TV Doesn't Necessarily Make You Fat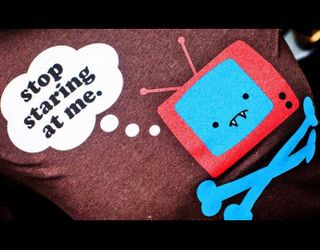 Two new longitudinal research studies -- conducted over a 20-year period -- indicate that TV viewing can lead to more injuries but may or may not lead to "adiposity" (the study's term for "obesity.")
One of the studies offers the contrarian view that watching TV doesn't necessarily make all couch potatoes fat, identifying a sizeable category of viewers who don't put on weight as they binge on TV shows. According to that study, which sought to correlate TV viewing and personal injuries, more time spent in front of a TV raised the risk of injuries during the following five years.
This relationship was greater for those in a "high hostility" group, which was determined by a scientific questionnaire, according to the report, "Television Viewing and Hostile Personality Trait Increase the Risk of Injuries," just published by University of Pittsburgh epidemiology professor Anthony Fabio and others. The research found that high-hostile individuals who watched more TV at year five of the study had 40% higher odds of injury by year 10. After that, at year 15, frequent viewers with hostile tendencies doubled the odds of injury at year 20. The nature of such injuries was not clearly spelled out.
"The association did not occur in individuals with less hostile personalities," Fabio said. Noting that "injuries cause more than half the deaths among people ages 1 through 44," Fabio and his colleagues suggested that "a reduction in television viewing and a content rating system that is geared not just to age but also to personality traits "could help."
Their study concluded that the correlation of TV viewing by people with hostile personalities has several implications. Certain personalities may lead them "to participate in more high-risk behaviors if they watch more television."
The report also repeats two long-held contentions: "Media violence and high-risk activities increase psychological arousal, intensifying subsequent behavior, such as aggressive risk-taking or impulsivity," and "Images on television may desensitize people to violence or risk-taking."
The second study, also published in late August by a team headed by the University of Pittsburgh, found that the link between watching TV and higher body mass does "not hold in later years, indicating that young adulthood is an important time to intervene and promote less TV viewing."
"We were quite surprised to find that television viewing was associated with subsequent obesity for young adults, but not for the middle-aged," Fabio said in describing the findings of long-term research among more than 3,200 adults.
"This suggests that middle-aged adults may differ from young adults in how they respond to the influence of TV viewing," he added.
The study, "Fifteen-Year Prospective Analysis of Television Viewing and Adiposity," found that the more time participants watched TV when they were about 30 years old, the more likely they were to be obese five years later, compared with peers who spent less time in front of a TV.
Overall, both studies argued for watching less TV.
"Even a small reduction in television viewing could lead to vast public health improvements," Fabio concluded.
He did not indicate if his team is working on other long-term examinations of the relationship of hostility, apidosity and injuries in the aging population of mouse potatoes -- that is, screen addicts who spend a lot of time in front of computers and videogames.
Contributor Gary Arlen is known for his insights into the convergence of media, telecom, content and technology. Gary was founder/editor/publisher of Interactivity Report, TeleServices Report and other influential newsletters; he was the longtime "curmudgeon" columnist for Multichannel News as well as a regular contributor to AdMap, Washington Technology and Telecommunications Reports. He writes regularly about trends and media/marketing for the Consumer Technology Association's i3 magazine plus several blogs. Gary has taught media-focused courses on the adjunct faculties at George Mason University and American University and has guest-lectured at MIT, Harvard, UCLA, University of Southern California and Northwestern University and at countless media, marketing and technology industry events. As President of Arlen Communications LLC, he has provided analyses about the development of applications and services for entertainment, marketing and e-commerce.
The smarter way to stay on top of the multichannel video marketplace. Sign up below.
Thank you for signing up to Multichannel News. You will receive a verification email shortly.
There was a problem. Please refresh the page and try again.