Viewer Loyalty Adds Ammunition for À la Carte Advocates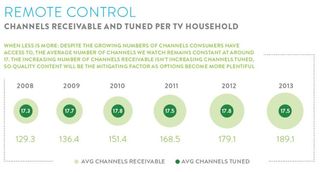 Among the most fascinating insights in Nielsen's latest "State of Media" report comes in the section pointing out viewers' steadfast loyalty to a handful of channels. Even as the number of "receivable" choices has grown by nearly 50% during the past five years from 129 channels to 189, the average home still tunes into only about 17.5 channels -- a figure that has stayed relatively constant from 2008 to 2013, according to Nielsen.
Such data fuels proponents of à la carte programming. I can just hear them citing Nielsen as they pound on the data showing that viewers watch barely 10% of the options for which they pay. The growing use of on-demand programming - either via cable or other broadband delivery - further bolsters the assertion that subscribers don't want to pay for a lot of channels that they never watch.
Nielsen's report focuses on "Advertising and Audiences," so its analysis concentrates on "media fragmentation" and ways to increase the value of targeted advertising. Yet the summary includes sobering financial realities about the evolving economics in the fragmented environment.
Most notable is the steady decline in the average price of a 30-second primetime TV commercial spot. For this chart, Nielsen combines broadcast and cable ad rates, which brings the "average" to a fairly low level that is falling fast: $8,900 in 2009, $8,000 in 2011 and $7,800 last year for a 30-second commercial.
Within the context of other recent viewership analyses (such as last week's PricewaterhouseCoopers forecast about cable subscriber erosion. Nielsen's report is both sobering and well spun. For example, it emphasizes the value of "quality content," appealing to specific target audiences.
"The increasing number of channels receivable isn't increasing channels tuned, so quality content will be the mitigating factor as options become more plentiful," the report concludes - as if the search for such programming hasn't always been the Holy Grail of producers and program directors. Yet with "quality" and targeted content now available on so many other platforms, that challenge is much greater than ever today. And the competitive factors again can be used to reinforce the arguments of the à la carte advocates.
Nielsen's "State of the Media" report appropriately cites viewership figures that CTAM, networks, NAB and other legacy media organizations love to quote: even with the plethora of viewing devices now available, American spend more than 155 hours per month watching traditional TV (about 5 hours per day) compared to just 7.5 hours per month (15 minutes daily) watching video on the Internet. Yet, Nielsen also acknowledges that online viewing time jumped 25% from just under 6 hours per month in 2012 to the 7.5 hour level last year.
That's a hefty increment.
Since the report is about advertising, Nielsen dishes out advice about "cutting through the commercial clutter" (which can consume 75 minutes of the 5 daily hours the "average" American spends in front of a TV set). Nielsen calls it an "enormous bombardment of advertising exposure" and recommends tactics for achieving ad resonance" starting with "program engagement." Simply put, Nielsen declares that "when viewers are paying more attention to a program, they will also pay more attention to the ads that air within that program."
Of course, that's also the formula enunciated by "content marketing" promoters on alternative media platforms.
Nielsen's report is a valuable compendium of findings about the growing use of second-screen behaviors, social media processes (including notable differences between viewers using tablets versus those using screenphones) plus the inevitable data about ethnic viewing and top genres for ad spending.
But the real message is the reminder that data can be used to tell - and sell - whatever message you have in mind. Clearly viewer choice - including à la carte - is a becoming a major option, whether or not cable operators aid and abet viewers' adoption of such patterns.
The smarter way to stay on top of the multichannel video marketplace. Sign up below.
Contributor Gary Arlen is known for his insights into the convergence of media, telecom, content and technology. Gary was founder/editor/publisher of Interactivity Report, TeleServices Report and other influential newsletters; he was the longtime "curmudgeon" columnist for Multichannel News as well as a regular contributor to AdMap, Washington Technology and Telecommunications Reports. He writes regularly about trends and media/marketing for the Consumer Technology Association's i3 magazine plus several blogs. Gary has taught media-focused courses on the adjunct faculties at George Mason University and American University and has guest-lectured at MIT, Harvard, UCLA, University of Southern California and Northwestern University and at countless media, marketing and technology industry events. As President of Arlen Communications LLC, he has provided analyses about the development of applications and services for entertainment, marketing and e-commerce.