Verizon's IoT Outlook Augurs Competitive Stance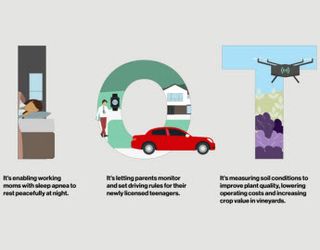 Verizon's bullish commitment to the Internet of Things -- as demonstrated in its new IoT "State of the Market" report -- outlines the challenge facing competitive providers, including cable operators.
The IoT invective, which surfaced within days of Verizon's deal with the city of Bostonto install a fiber optics network, is loaded with examples of the public/residential value of IoT capabilities.
"Private companies and the public sector both [are coming] to the inevitable conclusion that IoT is imperative to delivering the integrated, easy-to-use and sustainable products and services," according to the Verizon marketing manifesto. The study concludes that "the opportunity for revenue growth [is] the biggest factor driving IoT adoption." It envisions connections to 100 million street lights, 300 million utility meters along with IoT applications in automotive, healthcare, financial and other sectors - including agribusiness.
Verizon's bullish outlook expects that within five years, "average consumers will experience a much higher level or automation in their daily lives through the ability to engage with IoT applications through a more simplified interface."
"Average consumers -- and not just the gadget geeks -- will become increasingly willing to try new ideas and services," the report concludes.
"The view has been that IoT is a mashup of complex technologies used only by early adopters," said Mike Lanman, SVP for IoT and enterprise products at Verizon. "In the past year, we've seen compelling examples of how IoT is being deployed by a wide-range of enterprises, entrepreneurs, municipalities and developers to address relevant business, consumer and public needs."
He emphasized that consumers have become "more willing to try new technologies and apps that introduce a better way of life," a reference to wireless products such as health monitors.
The report suggests that "IoT usage at home will be less fragmented," indicating an expectation that systems integrators will play a significant role in IoT development. Several MSOs have set up units to handle home automation already, and the Verizon forecast augurs further competitive situations as IoT expands.
The Verizon analysis recognizes that public policy decisions may affect IoT's fate. Optimistically, the report suggests that "Regulators themselves will become more tech savvy as the number of IoT and wearable products and services increase."
Although the report doesn't spend much time on wireless IoT projects (considered a central ingredient for mobile and personal applications), it acknowledges the role of untethered services.
"Enabling developers to create applications on devices built for IoT using IoT platforms requires transforming wireless networks into a gateway that developers can program themselves," Verizon said.
Again, the telco's conclusion offers a glimpse of the integration and collaboration opportunities for wired and wireless facilities in the IoT equation.
The study is based on Verizon-commissioned research by Oxford Economics plus interviews with Verizon customers who are working on IoT projects in the private and public sectors, the company said. The report includes speculation on how "big data" will be used as IoT generates ever-larger quantities of usage experience.
Verizon said it expects that by the end of this decade, companies will be able to use three times as much of the collected data as they do now, and that data analytics will assist in the increasingly sophisticated interpretation of this information. It cited tools that will provide Descriptive analytics ("What happened?), Predictive analytics ("What could happen?") and Prescriptive analytics ("What should we do?").
The free downloadable report also includes several small case studies -- again an indicator of where Verizon foresees the IoT opportunities.
The smarter way to stay on top of the multichannel video marketplace. Sign up below.
Contributor Gary Arlen is known for his insights into the convergence of media, telecom, content and technology. Gary was founder/editor/publisher of Interactivity Report, TeleServices Report and other influential newsletters; he was the longtime "curmudgeon" columnist for Multichannel News as well as a regular contributor to AdMap, Washington Technology and Telecommunications Reports. He writes regularly about trends and media/marketing for the Consumer Technology Association's i3 magazine plus several blogs. Gary has taught media-focused courses on the adjunct faculties at George Mason University and American University and has guest-lectured at MIT, Harvard, UCLA, University of Southern California and Northwestern University and at countless media, marketing and technology industry events. As President of Arlen Communications LLC, he has provided analyses about the development of applications and services for entertainment, marketing and e-commerce.