Verizon Telegraphs Dismay At FCC Vote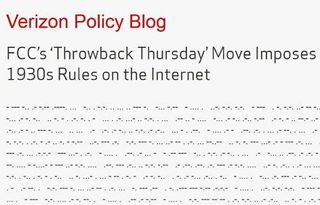 Dot-dash this!
Verizon demonstrated its displeasure with the FCC's net neutrality decision via a way-back version for a very special Throwback Thursday. Its Policy Blog, which said the ruling "Imposes 1930s Rules on the Internet," was presented in Morse Code (see illustration).  
When you click the link offering a "21st century" translation, Verizon's message that "Title II Regulations [Are] a 'Net' Loss for Innovations and Consumers" is dated 1934 and appears in a vintage typewriter font, almost looking like it is done with carbon paper.  
The snarky but witty attack on the FCCs decision contained predictable denunciations that the ruling is better suited to "the era of the steam locomotive and the telegraph." 
Michael E. Glover, Verizon senior vice president, public policy and government affairs, in his official statement, declared that, "The FCC's move is especially regrettable because it is wholly unnecessary."
"The FCC had targeted tools available to preserve an open Internet, but instead chose to use this order as an excuse to adopt 300-plus pages of broad and open-ended regulatory arcana that will have unintended negative consequences for consumers and various parts of the Internet ecosystem for years to come," Glover continued in Verizon's grizzled typewritten statement.
By the way, using an online Morse Code translation tool, the original blog message only included Glover's statement -- not the full blog.
A Verizon spokesman said that the company wanted to "reinforce the notion" that Title II regulation is "grounded in the 1934 Communications Act."  The company insists it did not want to be disrespectful; it decided to use the retro approach (using a Remington Riviera typewriter font) a few days ago; the blog, which appeared within minutes after the FCC's vote, was clearly prepared in advance, as the commission's 3-2 decision was expected.
Weekly digest of streaming and OTT industry news
Thank you for signing up to Multichannel News. You will receive a verification email shortly.
There was a problem. Please refresh the page and try again.