'Vaporized' Poses New Challenges for Media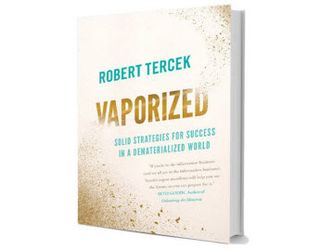 Timing is everything, especially when it's about survival. Or a fundamental re-thinking of everything you do.
Perhaps it was because of Comcast's recent revelations of massive new initiatives in business services and WiFi delivery. Maybe it was the spate of (often-conflicting) data about video streaming successes. Some of it could be attributed to the revived hype about the Internet of Things and other technology reconfigurations. And probably it's about the over-arching malaise regarding policy and financial developments.
Whatever the reason, Robert Tercek's concise new book, Vaporized, has just arrived in the midst of overwhelming (as usual) changes. Thanks to the author's background in the media and communications industries (MTV Networks, Sony Pictures, president of OWN Digital Media, plus early videogame ventures), Tercek's perspectives offer particularly strong insights about how cable operators, programmers and technology suppliers can adapt to the emerging marketplace.
Subtitled "Solid Strategies for Success in a Dematerialized World," the book presents an insightful, optimistic analysis of the digital future. Tercek crafts ideas for digital business practices that are akin to the kinds of interpretation that Malcolm Gladwell has done in pop sociology.
Tercek's basic principle is that "whatever can be vaporized will be." Media companies -- which faced that process much sooner than other industries -- took the first blows as digital production and delivery of music, publications and video vaporized previous formats. Tercek describes the emergent "new value bundle" as a combination of a device, software, content and commerce; he acknowledges that in these early days, "everything is up for grabs."
And Tercek warns against ignoring the inevitable changes. "Denial is powerful because it shuts down the imaginationl," he writes.
Vaporized offers a checklist for the new economy, is peppered with reminisces of Tercek's background, and occasionally (befitting a long-time Hollywood denizen) is self-promotional. He cites an "emergency meeting" he convened at MTV Networks in the early '90s when he was a young executive. Enthralled by the new videogame industry that also aimed at MTV's target audience of young males, he urged the entire company to plunge into the category. Tercek's plan was so far out of the box that Nickelodeon chief Geraldine Laybourne and most other top executives walked out of the meeting, leaving his boss, MTV president Judith McGrath, to comfort him. "That didn't go very well," he says in the book.
He also cites a 1991 CableLabs internal examination on "Delivering Interactive Services" by Peter Miller. Tercek characterizes the ideas as a blueprint by which cable operators "could have owned the Internet." But it was rejected. "The scale of the missed opportunity is breathtaking," Tercek writes.
Tercek's subsequent media and interactive projects convinced him that "defensive innovation" is not a valid strategy. He doesn't believe that bundles or TV Everywhere will work well, although he is a strong cheerleader for mobile and wireless operations.
As with most such books, Vaporized presents an introductory tutorial about a wide array of technologies with critiques of many of the companies -- especially content creators and Silicon Valley stalwarts. The straightforward style makes for easy reading, even during descriptions of arcane, cutting-edge ventures.
Tercek spends a chapter on the Internet of Things, including predictions on how carriers (including cable operators) and technology suppliers will participate. He also, as big data permeates every sector of business, delves intelligently into fundamental questions such as, "Who owns the data layer?"
Another volatile factor is the nature of work, as virtual operations eliminate the entire middle management tier in many companies. Tercek conveniently includes a list of 98 jobs (starting on page 223, in case you're doing some career planning) that are "highly likely" to be safe; most are in the technology and creative categories, and there's also hope for marketing and sales jobs.
Throughout the book, Tercek opines on which companies will survive in the "vaporized economy," which he characterizes as a fully decentralized peer-to-peer environment. Tercek's wide reach encompasses regulatory and public policy factors; he points out that in this situation, the popular term and tactic "disruption" represents reversal: big companies want to disrupt government efforts that affect their status quo. He expects the battle between the establishment and the vaporized economy will persist.
Idealistically, Tercek says, "We may see a new generation of vaporized institutions that are probably reliable and demonstrably fair."
Overall, Vaporized is optimistic and vastly relevant in and beyond the media/telecom industries. Tercek doesn't guarantee success to anyone, merely noting that most operations will have to modify or overhaul their ways of doing business to survive.
Needless to say, Vaporized is available in digital formats as well as between hard covers.
Contributor Gary Arlen is known for his insights into the convergence of media, telecom, content and technology. Gary was founder/editor/publisher of Interactivity Report, TeleServices Report and other influential newsletters; he was the longtime "curmudgeon" columnist for Multichannel News as well as a regular contributor to AdMap, Washington Technology and Telecommunications Reports. He writes regularly about trends and media/marketing for the Consumer Technology Association's i3 magazine plus several blogs. Gary has taught media-focused courses on the adjunct faculties at George Mason University and American University and has guest-lectured at MIT, Harvard, UCLA, University of Southern California and Northwestern University and at countless media, marketing and technology industry events. As President of Arlen Communications LLC, he has provided analyses about the development of applications and services for entertainment, marketing and e-commerce.
The smarter way to stay on top of the multichannel video marketplace. Sign up below.
Thank you for signing up to Multichannel News. You will receive a verification email shortly.
There was a problem. Please refresh the page and try again.