Upfronts 2015: Nicking Nielsen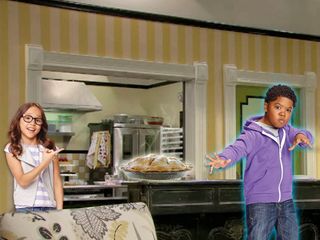 New York--No doubt espousing a sentiment shared by many in the industry, Nickelodeon tweaked Nielsen in the opening scene of its upfront presentation, while trumpeting its 10-screen ecosystem and a one for all mantra to match sponsors brands with its diverse portfolio.
Nick opened the formal upfront presentation season at Skylight at Moynihan Station -- better known as the big post office across the street from Madison Square Garden -- with a clip featuring Viacom CEO Philippe Dauman welcoming The Haunted Hathaways' Breanna Yde and Benjamin Flores Jr. (pictured) into his office.
After some banter about the boss actually having to work, Dauman acceded to Benjamin's request to sit in his chair before departing. Left alone, the kids discovered a book that Nick ad sales chief Jim Perry left behind in Dauman's digs. After failing to master the eyeball addition problems in "Counting TV Measurement for Dummies," they reasoned the manual must be from the 1980s and definitely needs to be updated to the laughter of the media buying crowd, who presumably are in on the joke that Nielsen doesn't measure much beyond the original small screen.
The wide-screen presentation – Cyma Zarghami, president of Viacom Kids and Family Group, said Skylight's was bigger than Radio City's – went wide, touching on the success of the current SpongeBob SquarePants theatrical and the Teenage Mutant Ninja Turtle toys, as well as Nick's prowess with gaming, apps and downloads, all of which are connecting kids and their families to Nick content and serving as conduits to sponsors brands.
Still, Perry reminded that TV remains the biggest platform, the anchor, for which C3 doesn't tell the whole story, because moving the measurement base to C7, results in some shows soaring an additional 40%.
To that end, Zargami and Russell Hicks, president of content and development, talked up Nick's reinvigorated and quicker to dispense pipeline. All told, some 600 episodes from returning shows – Henry Danger, Nicky, Ricky, Dicky & Dawn, Every Witch Way, Dora and Friends, The Fairly OddParents—as well as newcomers are on tap for 2015-16.
Those include live-action Make It Pop, about three girls who star in their own K-Pop-inspired band from Nick Cannon; Talia's Kitchen, which follows a Latina teen who gains culinary magical powers working in her grandmother's Miami restaurant; and The W.I.T. Academy, the Every Witch Way spinoff.
Hicks also touted the animated Pig, Goat, Banana, Cricket, a Looney Toons-inspired entry from Dave Cooper and Johnny Ryan, as well as Game Makers, which tracks two 12-year-old girls who start a highly successful gaming company. As part of a multiplatform experience from iCarly's Dan Schneider, the games depicted in the installments will be released through apps and online.
The presentation also spent considerable time showcasing sponsor-integrated successes from the likes of Toyota, McDonald's, Subway, Capri Sun and Air Hogs.
Perhaps the most impressive and catchy involved preschool series Blaze and the Monster Machines. Pam Kaufman, chief marketing officer and president of consumer products, explained how play patterns were at the center of the show, which also trades on STEM values. She noted how the game app, developed before the series' debuted, was released in January and quickly gained recognition among parents and their kids. The toyline rolls exclusively at Toys R Us in May, before retailing everywhere this fall. The message was hammered home via a riff on Meghan Trainor: "It's all about that Blaze, all about that Blaze."
The programmer is evidently expecting to up its game here, formally organizing its consumer insights, partnership marketing and multimedia services resources under the Nickelodeon Inside Out Solutions moniker.
Execs reassured that more SpongeBob and TMNT theatricals and series fare are on the way. But in perhaps a case of brand extension becoming a sponge out of water, COO Sarah Kirshbaum Levy introduced the off Broadway debut of the inhabitants of Bikini Bottom. Attendees got a taste of live-action, musical with largely un-costumed characters.
That preview left some in the audience thankful that their progeny were too old to cajole them into some day footing a Great White Way underwater excursion.
The smarter way to stay on top of the multichannel video marketplace. Sign up below.