'Uncertainty,' 'Reduced Competition' Fallout from FCC Decision: Pai, O'Rielly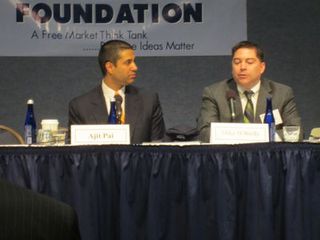 Republican FCC commissioners Ajit Pai and Michael O'Rielly took a quick break from their Capitol Hill appearances to lambaste the Commission's net neutrality and municipal broadband decisions during their appearances at a Washington think tank conference on March 19.

Their staunch criticisms of the decision were echoed by other policy-makers and lobbyists on the program of the right-leaning Free State Foundation's seventh annual Telecom Policy Conference. Notably House Communications Subcommittee chairman Greg Walden (R-Oregon) - characterizing the FCC decision as a "chilling pall cast over the internet" - said the partisan ruling fueled his intent to examine the entire FCC operation as part of his subcommittee's reauthorization funding review.

Pai cited the reduction in broadband competition, especially in rural communities, as the most troublesome effect from the Title II decision. O'Rielly said he was particularly upset by the "uncertainty" that accompanies any policy that allows the staff to define procedures at a later date. He singled out small cable firms that have told him how "burdensome" the uncertainty will be.

Underscoring the internecine partisanship at the Commission, O'Rielly also questioned "the harsh criticism" that he and Pai have faced in Chairman Wheeler's comments and statements.

As for the FCC's decision on muny broadband operations, Pai bluntly described its "most problematic aspect is that it is unlawful."

"If we don't have the authority to do something, we shouldn't do it," he said.

O'Rielly called the ruling "an affront to capitalism."

Rep. Walden opened the conference with his vow to use the upcoming Congressional reauthorization of the FCC to "pursue reform" at the agency, including greater transparency. He cited the network neutrality rulemaking as evidence that that the Commission uses "procedural workarounds" to achieve partisan objectives.

"We know it's a broken agency," Walden said, using words similar to those he would utter two hours later at his House subcommittee's interrogation of the FCC Commissioners. He lambasted "the escalation of partisanship among commissioners," which he attributed to Wheeler's efforts to create a "breakdown in the process at the agency."

Former House Communications Subcommittee chairman Rick Boucher, one of the few Democrats on the FSF program, acknowledged that "Democrats have a lot at risk" as they celebrate "a temporary victory" on the net neutrality issue. He pointed out that there will eventually be a Republican FCC, and he predicted that Title II regulation will be overturned. Boucher, now in private legal practice, is honorary chairman of the Internet Innovation Alliance.

Federal Trade Commission commissioner Maureen Ohlhausen said that the FCC's ruling "might create challenges for the FTC," citing situations in which companies against which FTC brings any kinds of charges could say they are exempt from FTC jurisdiction because of Title II regulations at the FCC.

FSF's wide-ranging discussion delved into topics beyond network neutrality and FCC dysfunction. During an examination of the spectrum incentive auctions, Pai cited the "complexity of the rules" for the plan to transfer airwaves from broadcasters to wireless telecom carriers. He cited the dynamic reserve pricing proposal, which he said "could lead to all sorts of cross-service interference."

O'Rielly challenged the pronouncements that this is a "once in a lifetime auction" situation.

He contended that if the auction is "remotely successful," there will be momentum for another round sometime in the future. Although he believes the auction should be held as soon as feasible, O'Rielly acknowledged that there may be "legitimate reasons to push out the timetable, citing the need for wireless companies to recalibrate their financial considerations.

During a session on which lobbyists from NCTA, Verizon, Cisco, CTIA and Public Knowledge assessed the net neutrality aftermath, there was little talk about specifics for the inevitable court challenges to the FCC rulings.

James Assey, NCTA executive vice president, said he was "encouraged by the number of people who thought a legislative solution is possible."

"A broad rewrite to codify principles" seems more likely now, Assey suggested. And he noted that "we're unlikely to see the benefits" of any actions "until we get some clarity." about the specific rules.

The panel also looked at the downloadable security technology situation, acknowledging the importance of the project now getting underway via an FCC advisory committee. Jeffrey Campbell, Cisco's VP-the America, global government affairs, cited the value of software solutions that can handle multiple platform capabilities.

Verizon's senior vice president Peter Davidson said that security solutions should not rely on "the old black boxes."

"As we become an OTT provider, we're finding it difficult to aggregate the content from different sources," Davidson said. "Policy makers should be looking at that set of issues. ... This is worthy of policy makers attention."

The smarter way to stay on top of the multichannel video marketplace. Sign up below.
Contributor Gary Arlen is known for his insights into the convergence of media, telecom, content and technology. Gary was founder/editor/publisher of Interactivity Report, TeleServices Report and other influential newsletters; he was the longtime "curmudgeon" columnist for Multichannel News as well as a regular contributor to AdMap, Washington Technology and Telecommunications Reports. He writes regularly about trends and media/marketing for the Consumer Technology Association's i3 magazine plus several blogs. Gary has taught media-focused courses on the adjunct faculties at George Mason University and American University and has guest-lectured at MIT, Harvard, UCLA, University of Southern California and Northwestern University and at countless media, marketing and technology industry events. As President of Arlen Communications LLC, he has provided analyses about the development of applications and services for entertainment, marketing and e-commerce.
Thank you for signing up to Multichannel News. You will receive a verification email shortly.
There was a problem. Please refresh the page and try again.