TV's Financial Strength Continues to Face Online Challenges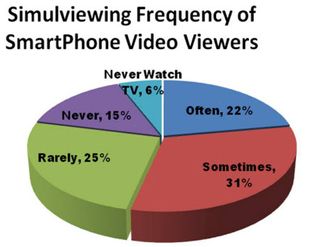 As I watched a TV interview with Michael Wolff, who was promoting his new book, Television Is the New Television: The Unexpected Triumph of Old Media In the Digital Age (to be published this week), I was, inevitably, multitasking.
In fact, I was reading the Interactive Advertising Bureau's latest report, also out this week, that claims more than half of smartphone viewers simultaneously watch TV and their mobile devices regularly -- probably seeing different shows and commercials. It's definitely a "split attention" situation (see chart).
Hence, despite Wolff's defense of the continuing strength (and profitability) of traditional linear programming, there are so many other indicators about the shifting mix of viewing patterns.
And the move away from conventional TV.
Today's Zenith Optimedia Advertising Expenditure Forecasts further complicated my multitasking confusion. The outlook foresees that mobile advertising -- via smartphones, tablets and other portable devices -- will more than double its share of global ad spending by 2017. It could represent 70% of total ad spending growth in the next few years.
In its global forecast, Zenith Optimedia, owned by advertising agency Publicis, acknowledged that overall ad spending in 2016 will be fueled by the Summer Olympics in Rio and the U.S. presidential elections. Then the seers took a longer view about the shift toward digital platforms.
"The Internet is quickly establishing itself as the dominant advertising medium, and on current trends will overtake television by the end of the decade," said Zenith Optimedia CEO Steve King. "The amount of time viewers spend watching online video on their laptops, tablets and smartphones is increasing rapidly, and advertisers are shifting their budgets online to follow them," he said. The company expects the Internet to become "the dominant medium in China, Finland, Germany, Ireland and New Zealand in the next two years."
We've all seen contradictory forecasts before. Today's deluge of simultaneous analyses simply brings new evidence to whatever side you want to support. For example, the IAB report, conducted by OnDevice Research, contends that smartphone video viewing is especially strong at home in the evenings (8 to 11 p.m.). Ninety percent of respondents worldwide said they watch smartphone video while at home versus 49% who watch from elsewhere.
Only 22% of IAB's study group said they watch less television overall as they upped their smartphone viewing. And 53% said they watched smartphone video simultaneously with TV viewing -- hence the distracted factor as they shifted between two screen, not merely channel jumping via remote controls. The study acknowledged that marketers face the challenge of poking through this split attention.
IAB noted that advertisers are repurposing their TV commercials for the mobile, seemingly in an effort to reinforce messages. According to the study, 28% of viewers said they frequently recognized the same ads on mobile video that they had also seen on TV; another 38% said they occasionally saw the same commercials on both platforms. IAB interpreted the multi-platform ad strategy as not reflecting the ability of digital ads to be tailored to viewers' individual expectations and interests.
Contributor Gary Arlen is known for his insights into the convergence of media, telecom, content and technology. Gary was founder/editor/publisher of Interactivity Report, TeleServices Report and other influential newsletters; he was the longtime "curmudgeon" columnist for Multichannel News as well as a regular contributor to AdMap, Washington Technology and Telecommunications Reports. He writes regularly about trends and media/marketing for the Consumer Technology Association's i3 magazine plus several blogs. Gary has taught media-focused courses on the adjunct faculties at George Mason University and American University and has guest-lectured at MIT, Harvard, UCLA, University of Southern California and Northwestern University and at countless media, marketing and technology industry events. As President of Arlen Communications LLC, he has provided analyses about the development of applications and services for entertainment, marketing and e-commerce.
The smarter way to stay on top of the multichannel video marketplace. Sign up below.
Thank you for signing up to Multichannel News. You will receive a verification email shortly.
There was a problem. Please refresh the page and try again.