TiVo Data Reveals Top Super Bowl 50 Moments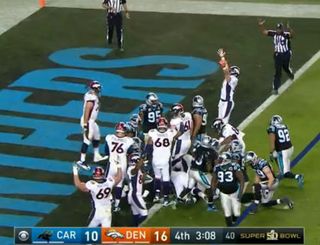 C.J. Anderson's TD plunge late in Super Bowl 50 that extended the Denver Broncos's lead over the Carolina Panthers was the "top moment" during the game, according to TiVo Research's analysis of second-by-second data culled form 30,000 anonymous households.
On the ad front, the Doritos – Sonogram spot was tops, according to that same data.
TiVo based its viewing interest findings by measuring the percentage of the TiVo audience watching in "play" speed.
"The most engaging ads are determined by looking for spots with the biggest increase in viewership relative to the viewership in the surrounding 15 minutes of programming, offering a true reflection of audience engagement," the company noted.
Based on that data, here were the "top moments" from Super Bowl 50:
1.10:04 p.m. ET, when Broncos running back C.J. Anderson plunged into the end zone, giving the Broncos a 22-10 lead with three minutes remaining.
2.Super Bowl MVP Von Miller strips the ball from Cam Newton's hand with four minutes remaining in the 4th quarter, with the Panthers down by 6.
3.The replay showing Cam Newton backing away from the scramble for the lost football.
Here's how the top ten commercials from the game stacked up when viewed through TiVo's data lens:
2.Mountain Dew – PuppyMonkeyBaby
3.Quesalupa – Bigger Than Everything
4.Cascada – That Convertibles' a Buick
6.Marmot – Fall in Love with the Outside
8.Bud Light – Raise One to Right Now
The smarter way to stay on top of the multichannel video marketplace. Sign up below.