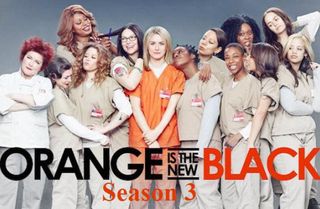 When Netflix "suddenly" decided to unleash the third season of its hit Orange Is the New Black six hours earlier than scheduled, the Twittersphere went wild. And many fans got a jump of a few hours during which to binge on the 13 new episodes.
When Sony's Crackle over-the-top service decided to release this season's episodes of Jerry Seinfeld's Comedians in Cars Getting Coffeeat 11:30 pm ET on Wednesdays (rather than the 12:01 am Thursday timetable of the previous five seasons), there was buzz that the new late-night timing gave fans an alternative to the departed Letterman show and the other before-midnight talk shows.
Yet these sophisticated timing stunts seem irrelevant in an on-demand world where cloud and set-top access let viewers create their own personally preferred schedule. Indeed, this week's Rentrak report that more Americans are spending a lot more time watching free video on demand underscores the reality. People want to pick the time and place to see shows they like. (Although Rentrak's study focused on time-shifted broadcast and cable programs, the underlying message is clear across all platforms: Viewers are no longer bound to any clock.)
Of course, Orange and Comedians in Cars benefit from their core fan bases, who will gobble up new episodes immediately if only for the bragging rights at the water cooler the next day or on social media immediately. It's not coincidental that Netflix and Crackle, respectively, unveiled the "early release" plans for Orange and Seinfeld's show within a couple days of each other. The OTT business is increasingly becoming one of hype and buzz and social media connectivity.
Indeed, the six-hour jump for Orange came during the invitation-only "OrangeCon" fan event in New York, where the show's most devoted fans heard directly from the series' stars (and via Tweets) that the Litchfield Correctional Institution inmates would start their next adventures at 6 p.m. on June 11 instead of at midnight ET. Not coincidentally, that put the binge viewers smack into the middle of the NBA Game 4 finals that night.
It's hard to imagine that Seinfeld fans will consider that the series' short programs (usually running about 15-20 minutes) as competition to Fallon, Kimmel, O'Brien or any of talkers at 11:30 p.m. (even Colbert, when he arrives). Yet the OTT interest in scheduling new releases is a curiosity. As the New York Post observed, when Yahoo Screen debuted the sixth season of Community in March (nearly a year after NBC had cancelled the series), the plan called for a once-a-week release of new episodes - just like a TV schedule. Hulu is also emulating the one-a-week rollout for some of its original series, including Moone Boy and The Awesomes.
TiVO and the digital video recorder evolution that started more than a decade ago obviated the value of schedules -- other than the ones that individuals create for themselves.
The current OTT stunts -- plus the array of scheduling options -- are reminders that "new media:" are experimenting with ways to put shows in front of viewers in a variety of ways. One concept is to emulate traditional program schedules. But online distributors can enhance that process with binge-ready releases as well as on-demand availability or restricted access ("see it now," much like Disney's once-vaunted method of re-releasing its classic movies for each new generation of five-year olds then putting them back in the vault for a few years). That's harder to do in the digital distribution era, but new programmers are looking for creative ways to exploit their titles in ways that appeal to viewers.
Above all, the timing issues are reminders about the integration of digital and linear viewing. Some fans (the "best" viewers to advertisers and others) will closely track when their favorite shows appear and gobble them up immediately. The entire situation is also a call for improved cross-platform program guides -- but that's another story.
Fundamentally, now that that timing isn't everything, we need a new way to redefine "appointment TV."
And that doesn't necessarily mean a specific time.
Contributor Gary Arlen is known for his insights into the convergence of media, telecom, content and technology. Gary was founder/editor/publisher of Interactivity Report, TeleServices Report and other influential newsletters; he was the longtime "curmudgeon" columnist for Multichannel News as well as a regular contributor to AdMap, Washington Technology and Telecommunications Reports. He writes regularly about trends and media/marketing for the Consumer Technology Association's i3 magazine plus several blogs. Gary has taught media-focused courses on the adjunct faculties at George Mason University and American University and has guest-lectured at MIT, Harvard, UCLA, University of Southern California and Northwestern University and at countless media, marketing and technology industry events. As President of Arlen Communications LLC, he has provided analyses about the development of applications and services for entertainment, marketing and e-commerce.
The smarter way to stay on top of the multichannel video marketplace. Sign up below.
Thank you for signing up to Multichannel News. You will receive a verification email shortly.
There was a problem. Please refresh the page and try again.