Telecom Policymaking a Piecemeal Effort, Walden Predicts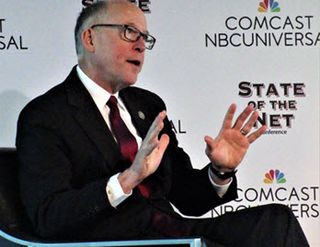 Congressional action to update the Telecommunications Act will be incremental, according to Rep. Greg Walden (R-Ore.), chair of the House Energy & Commerce Committee.

"We're looking at it piece by piece," Walden said at the 2018 State of the Net conference on Monday, Jan. 29. He added that Congress also "needs to look at the FCC operation" overall, acknowledging that "we live in a different era" than when the 1996 Telecom law was enacted. Walden said he expects a "program-by-program" evaluation, but did not suggest any timetable or urgency for the review.

More From SOTN: Rosenworcel Seeks Wider Investigation of Fake Comments

Walden's outlook on piecemeal telecom reform legislation echoes the view of his Senate counterpart Sen. John Thune, chairman of the Senate Committee on Commerce, Science, and Transportation Committee. At the SOTN conference last year, Thune also avoided any expectation that an omnibus revision of the Telecommunications Act is likely.

Walden also addressed net neutrality and broadcast spectrum issues in his remarks. He blamed the FCC's 2015 Open Internet ruling for creating an unnecessary barrier, but stopped short of promising any Congressional lawmaking on the topic either, as others have suggested.

"We ought to be able to find common ground to prevent bad behavior," such as paid prioritization, Walden said. But he contended that the issues are "not fully understood," saying, "We need to get certainty on what will drive more investment."

Related: Walden Says House E&C Will Hold Hearing on Paid Prioritization

Walden said he believes that lawsuits about the issue "will force America further back" in Internet development. He did promise that his committee will hold hearings on the topic, but did not specify a schedule.

In addition to his vow to find more money for the broadcast channel repack, required after last year's incentive spectrum auction, Walden vowed "a continuing effort to find more spectrum" and indicated that he expects that the FCC will "proceed with more spectrum auctions."

Related | broadcastingcable.com: Walden Says $3B Needed for Auction Repack

Asked about white space uses in the broadcast spectrum, Walden said he'd like to "maximize spectrum use but not interfere" with current operations.

"I'm not opposed so long as there is no interference," he explained.

A subsequent SOTN session on "The Fragmentation of Communications Policy" focused on privacy. Former Federal Trade Commission chair Jon Leibowitz, now in private practice at Davis Polk and Wardell law firm, said that the FTC is a "muscular agency" in this category and warned that state oversight of the issue is unacceptable.

"A federal solution - not a patchwork of state rules" is needed, Leibowitz said.

Another panelist, former National Telecommunications and Information Administration Director Larry Irving, now a telecom consultant, responded that the "FTC is not the right agency to regulate privacy over the Internet." At that, Chris Lewis, VP at Public Knowledge, insisted, "There is no reason why you can't have multiple cops on the beat," saying such an arrangement would provide "robust power" for enforcement.

Irving characterized the "likelihood of legislation in the near term is de minimis."

DOJ's Views of Security
Deputy Assistant Attorney General Rod Rosenstein focused on security in his remarks at the final SOTN session. Attendees were cautioned that he would not talk about or respond to questions about that day's revelations relating to the Russia allegations involving White House and Congressional activities.

Nonetheless, Rosenstein plunged into the fray, warning that, "We'll probably have more [cyber attacks] in the future with people protecting themselves" against such incursions.

He also said the DOJ is seeking "responsible encryption."

"We favor encryption but not to the exclusion of legitimate law enforcement concerns," he said. "We need to continue to improve our cyber defenses so we can help private sector protect themselves."

He urged that "federal agencies work with industry to combat threats."

"We need to improve our cyber defenses to help protect the sector," he said.

In response to a question about intellectual property protection, Rosenstein said it was a "top priority for us," citing global coordination of efforts to fight piracy.

Public Dismay/Confusion
Earlier in the day, Sally Shipman Wentworth, vice president of Global Policy Development at the Internet Society, described an ISOC study which found that the user-centric vision of the Internet "has been lost." Commercial providers and government involvement now is dominant in Internet operations, factors that users don't understand, she said.

Wentworth also noted the "enormous explosion of threat vectors," singling out the massive role that government agencies will play in the Internet of Things, such as sensors for traffic, local security and other public services. She said that such activities will involves organizations that "have not necessarily been part of the Internet discussion so far," suggesting potential problems as new ventures and services emerge.

Her concerns were reinforced by findings from another new research report, unveiled at the SOTN conference.

Eighty-five percent of Americans said that the Internet has had a positive impact on their lives, but 56 percent said they believe it has weakened American democracy, according to the study by the Internet Education Foundation www.neted.org , which produces the SOTN conference. The "Society Under Strain" report found that Americans are "skeptical about the ability to secure the Internet" and about financial innovations that many don't understand.

"Americans have high hopes for what the Internet can mean to their lives, but as technology advances it creates new concerns that ultimately end up before Congress and regulators," said Tim Lordan, executive director of the Internet Education Foundation.

"Americans look to policymakers for answers," he added. "A majority (53%) believe that the laws and regulations that we have today aren't working to deal with the issues that arise due to the Internet."

The study, conducted by Vrge Strategies, found that Americans are mixed on whether artificial intelligence and virtual assistants enabled by it will be beneficial or harmful. Thirty-seven percent said it will benefit them by making their life and work easier; nearly the same amount (36%) said it will be harmful by creating security and privacy issues.

According to the report's analysis, Americans overwhelmingly expect Internet companies to protect customers from cyberattacks: 52% cited Internet companies, 19% said the government and 18% expect consumers themselves to be responsible for protecting their Internet uses.

Nearly half of respondents (48%) said that while some incidents can be prevented, the "Internet cannot be protected from most cyber attacks."

Pictured: Rep. Greg Walden speaking at the 2018 State of the Net conference.
Contributor Gary Arlen is known for his insights into the convergence of media, telecom, content and technology. Gary was founder/editor/publisher of Interactivity Report, TeleServices Report and other influential newsletters; he was the longtime "curmudgeon" columnist for Multichannel News as well as a regular contributor to AdMap, Washington Technology and Telecommunications Reports. He writes regularly about trends and media/marketing for the Consumer Technology Association's i3 magazine plus several blogs. Gary has taught media-focused courses on the adjunct faculties at George Mason University and American University and has guest-lectured at MIT, Harvard, UCLA, University of Southern California and Northwestern University and at countless media, marketing and technology industry events. As President of Arlen Communications LLC, he has provided analyses about the development of applications and services for entertainment, marketing and e-commerce.
The smarter way to stay on top of the multichannel video marketplace. Sign up below.
Thank you for signing up to Multichannel News. You will receive a verification email shortly.
There was a problem. Please refresh the page and try again.