Smart TVs Top Streaming Preference:Study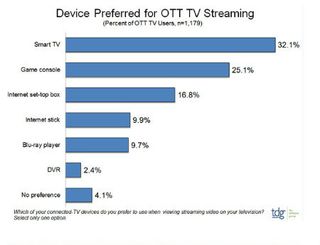 Though Roku players, Amazon Fire TV boxes and the new Apple TV device remain popular, smart TVs beat them all when it comes to which platform consumers prefer for streaming video.
That's according to a new survey from The Diffusion Group that queried 2,000 U.S. adult broadband users, of which 60% use an over-the-top streaming service on their home TVs.
Smart TVs, at 32.1%, was the most preferred platform (see chart), followed by game consoles (25.1%), Internet set-top boxes (16.8%), Internet sticks (9.9%), connected Blu-ray players (9.7%), and DVRs (2.4%). Just over 4% had no preference.
TDG noted that the preference figure lines up with the penetration of smart TVs. But why did smart TVs outrank the other options?
Simplicity is key, per the theory of TDG director of research Michael Greeson: "With smart TVs, viewers are not required to manually switch inputs from the TV to another device or pick up a different remote in order to access their favorite streaming apps and programs."
But being the most preferred option doesn't necessarily translate to the most-used option. And recent studies have come to different conclusions.
A Parks Research study released late last year found that gaming consoles were the top TV-connected devices used for accessing online video, followed by smart TVs, streaming media players, connected DVRs and Blu-rays.
The smarter way to stay on top of the multichannel video marketplace. Sign up below.