Sling TV: Fine Young Cannibal?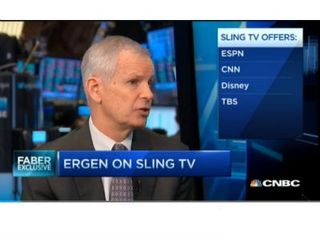 Sling TV, Dish Network's new OTT service that launched nationwide in February, is generally considered additive to the pay-TV pie because the single-stream service is crafted for cord-cutters and smaller service bundles.
But based on comments made by Dish chairman Charlie Ergen Wednesday on CNBC, there might be much more to it…eventually.
"It will cannibalize our business, there's no question about that," Ergen said. "It's an innovator's dilemma. Do you not take…the best of new technology to protect your old technology? We view it that we have to do that. We have to reinvent our self; we have to transform the company."
Still, the potential for cannibalization appears to be a longer term effect, as Ergen also acknowledged that the vast majority of Sling TV customers are new to the pay-TV universe, making them incremental to Dish's business and to its programming partners.
"Better yet, it's a better advertising model for them [programmers] because it's a one-to-one relationship with the consumer, so we can introduce ads that are one-to-one."
Dish hasn't released any subscriber figures for Sling TV (though there are estimates that the service has drawn 100,000-plus registered users in the early phases), but Ergen said the early results are "encouraging."
Ergen was also asked to riff on OTT competition, including Sony Vue and a purported skinny TV service being developed by Apple, and injected some network neutrality into the discussion.
"As long as the Internet is open…I think it's a very generic business that is now mature with the big bundle, there's going to be a ton of competitors coming, and there's going to be different segments," Ergen said, noting that Sony has a "nice product" that is using a bigger bundle to target a different audience than Sling TV.
And Apple? "A betting man would say that's going to be a good product," said Ergen, referencing other OTT services from HBO, Nickelodeon and CBS that have launched or are about to launch.
But he's not yet ready to declare that the big bundle is dead, noting that it still holds tremendous value for families and will remain the better deal for many.
"But if you're that college student or getting your first job and moving into your first apartment, then you're going to go after a [skinny] package because you just can't afford $100 per month…In the future there's going to be offerings for you that appeal to your budget and appeal to your taste," Ergen said.
The smarter way to stay on top of the multichannel video marketplace. Sign up below.
Thank you for signing up to Multichannel News. You will receive a verification email shortly.
There was a problem. Please refresh the page and try again.