Rural Broadband, Restoring FCC to 5 Members Top Walden's Agenda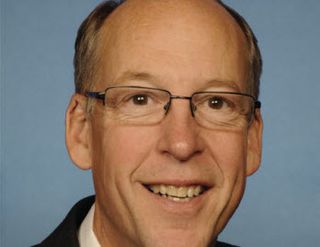 House Energy & Commerce Committee chairman Greg Walden (R-Ore.) outlined a broad agenda for the committee and its Communications Subcommittee on Tuesday (Feb. 14), with items ranging from legislative action on Title II to a comprehensive examination of FCC and NTIA "reauthorization" to accelerated rural broadband deployment to increased oversight of federal cybersecurity initiatives.
At the monthly luncheon of the Media Institute, Walden (pictured) endorsed the "process reforms" that FCC chairman Ajit Pai (who was in the audience) has already introduced. Walden complimented Pai for successfully doing administratively "what Congress has been trying to do legislatively." He singled out Pai's decisions to revoke recent regulations over broadcast joint-sales and shared-service agreements and to rescind certain requirements for noncommercial TV ownership reports.
"We want this business to be vibrant and competitive," Walden said, noting that he expects to "see additional deregulation."
"We don't need antiquated rules like cross-ownership," Walden said.
As for the Open Internet rules, the Commerce chairman said, "Republicans are open to legislative solutions" and that net-neutrality decisions "should be done legislatively." But he acknowledged "it will take time" to develop new procedures, saying, "We have draft legislation" in the works.
Walden did not respond to queries about a timetable for the congressional review. He chastised the previous FCC leadership's "over-reach" in the Open Internet process.
Although he glazed over his agenda for what he called a long-overdue comprehensive reauthorization of both the Federal Communications Commission and the National Telecommunications and Information Administration, Walden said he believes the FCC should be restored to its five-member level (currently the agency has only three Commissioners).
"The Commission should be filled out, the sooner the better," Walden insisted.
On the broader issue of a comprehensive update to the 1996 Telecommunications Act, Walden said he "resists the notion that it will be one bill," preferring to "look at this in modules" affecting various industries, he said, emphasizing that Communications Subcommittee chair Marsha Blackburn (R-Tenn.) will lead the group's decisions on a rewrite.
"If the marketplace can handle [conditions], it should," Walden said.
Walden called deployment of rural broadband a top priority on the Committee's communications agenda, pulling in examples of the need for wireless broadband. In particular, he emphasized the need to "lower the cost of broadband development."
He told a homespun tale of the need for such capabilities coming up this summer, on Aug. 27: the date of a total solar eclipse where a prime viewing area will be in small towns within his central Oregon district. Walden said there is almost no wireless capability for a stretch of nearly 30 miles around the eclipse epicenter. Then he wondered aloud, looking directly at Pai, if he "only knew someone who had administrative authority to require coverage in that region." (At that point, Pai jokingly stood up and started to walk away from his table, to the gleeful laughter of the audience.)
Regarding cybersecurity, Walden indicated that the Commerce Committee will examine the ways in which various agencies monitor activities within their sectors to avoid duplication. Citing the threats to power utilities as well as commercial and communications facilities, Walden vowed to work with industry and to "incentivize" the entire ecosystem to prepare for possible digital assaults.
"We don't need every agency to grab a piece of cybersecurity," he added. "The goals should be how to share information and avoid cyberattacks."
The smarter way to stay on top of the multichannel video marketplace. Sign up below.
Contributor Gary Arlen is known for his insights into the convergence of media, telecom, content and technology. Gary was founder/editor/publisher of Interactivity Report, TeleServices Report and other influential newsletters; he was the longtime "curmudgeon" columnist for Multichannel News as well as a regular contributor to AdMap, Washington Technology and Telecommunications Reports. He writes regularly about trends and media/marketing for the Consumer Technology Association's i3 magazine plus several blogs. Gary has taught media-focused courses on the adjunct faculties at George Mason University and American University and has guest-lectured at MIT, Harvard, UCLA, University of Southern California and Northwestern University and at countless media, marketing and technology industry events. As President of Arlen Communications LLC, he has provided analyses about the development of applications and services for entertainment, marketing and e-commerce.