Reviving Interest in a Telecom Act Rewrite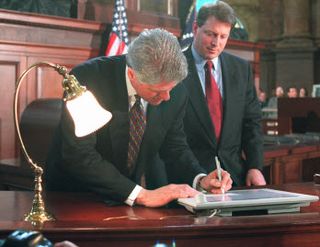 Republican leaders in Congress are dropping broad hints that it's time (once again) to try to overhaul the 1996 Telecommunications Act, which has been increasingly burdened by legal challenges to FCC decisions (most recently and notably, net neutrality) as well as by dramatic issues such as privacy and cybersecurity.
Senate Commerce Committee chairman John Thune (R-S.D.) said, "It's time for Congress to be heard from again," according to a report this week in the congressional newspaper, The Hill.
"There are way more moving parts now than there were back then," Thune told the newspaper.
President Bill Clinton signed the 1996 Telecom Act into law on Feb. 8 of that year (see photo).
Rep. John Shimkus (R-Ill.) and Rep. Greg Walden (R-Ore.), both of whom are considering a bid to chair the House Energy and Commerce Committee next year, agree that a telecom rewrite is overdue. Walden now chairs the E&C Communications and Technology subcommittee; Shimkus chairs its Environment and the Economy subcommittee and is a member of the Communications and Technology group.
"You want to do a blank slate," Shimkus told The Hill. He envisions starting the process by assuming "there's no FCC, but we have the communication devices" and legislators have to create a regulatory ecosystem. Shimkus contended that the '96 law is not suited to today's technology, calling that tech/law gap an incentive to update the Act.
"I've got to believe that's compelling," he said. "It shouldn't be threatening. In fact, you should encourage the FCC to be involved."
All speculation about Telecom Act reform in the 115th Congress is, of course, uncertain in today's volatile political environment. Control of the Senate may change, and the balance of power in the House may narrow.
Rep. Anna Eshoo (D-Calif.), the ranking Democrat on the House communications subcommittee, told The Hill that the process may depend on who chairs the full Commerce committee and "what kind of leadership and ... vision [about] what needs to be done across the communications and technology sectors."
Telecom reform legislation has been bruited around Capitol Hill for nearly a decade, with prior Commerce Committee chairs acknowledging the need for updates in the volatile tech/telecom environment. Efforts to seek agreement between the legacy communications providers, including cable as well as telephone companies, and Silicon Valley upstarts have foiled many of the plans. Turf wars are also likely, as the FCC and Federal Trade Commission jurisdictions overlap on issues such as privacy and security. Not to mention the role of military/security concerns in the evolving spectrum wars.
An ambitious effort for a rewrite by House Republican three years ago floundered, and the next attempt will have to delve into the unchartered worlds of the Internet of Things and other applications that were barely in the lexicon early in the Obama administration.
As Thune acknowledged in The Hill report, the term "Internet" barely appears in the 1996 Act, even though the World Wide Web was well underway at that time.
"It's a whole different world" now, Thune said. "We think that the policies, the regulations, that apply to the industry today need to be updated, need to be modernized."
Yet finding consensus may be much more challenging than in prior years. Many analysts have pointed to the wider-than-ever range of organizations now touched by FCC rules, making it harder to find agreement. There has been considerable talk about separate updates of the telecom and media portions of the law, but that approach is increasingly difficult as the convergence of the two worlds (Comcast-NBCU and AT&T-DirecTV exemplify the situation) expands and rules affect all sectors of the telecom arena.
Not to mention the roles of non-traditional media providers such as Google and Amazon.
While the next leadership of pertinent Congressional units is unknown, the issue of telecom reform -- complex as it is -- is being positioned as a priority objective for the 115th Congress. It's just not clear how "high" a priority it will become.
The smarter way to stay on top of the multichannel video marketplace. Sign up below.
Contributor Gary Arlen is known for his insights into the convergence of media, telecom, content and technology. Gary was founder/editor/publisher of Interactivity Report, TeleServices Report and other influential newsletters; he was the longtime "curmudgeon" columnist for Multichannel News as well as a regular contributor to AdMap, Washington Technology and Telecommunications Reports. He writes regularly about trends and media/marketing for the Consumer Technology Association's i3 magazine plus several blogs. Gary has taught media-focused courses on the adjunct faculties at George Mason University and American University and has guest-lectured at MIT, Harvard, UCLA, University of Southern California and Northwestern University and at countless media, marketing and technology industry events. As President of Arlen Communications LLC, he has provided analyses about the development of applications and services for entertainment, marketing and e-commerce.