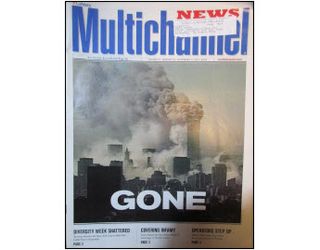 "What kind of joke is that?" I asked incredulously.
In the lobby of the Comedy Central offices, a little after 9:30 a.m. on Tuesday, Sept. 11, 2001, we were in a happy mood. So when the VP we were to meet came out and said, "They just blew up the World Trade Center," reality didn't register. My colleagues and I thought we had stumbled into some dark jokes at the humor headquarters near Columbus Circle.
Our host just pointed to the TV monitor in the lobby, and we watched the flaming, smoking towers.
For the rest of the morning.
Like you and people around the world, we became spectators at an event we'll never forget.
My colleagues and I had been walking up Broadway during the critical moments, and saw some speeding police cars with sirens blaring just after 9 a.m. What's so unusual about that around Times Square in Manhattan?
But the chaos of the next few hours -- and weeks and months -- gave us our first glimpse of the new world order. At Comedy Central HQ, there was confusion about how to handle the situation. At the time, Comedy Central was co-owned by Viacom and Time Warner Inc. One of the parent companies had locked down and required all employees to stay inside until they knew what was happening around New York; the other company sent employees home right away. Where we sat, people were not sure which policy to follow.
Just a few hours earlier, I had been having breakfast with another cable pal at his Midtown Manhattan club. He saw a familiar face a few tables over: the then-president of Time Warner Cable of Manhattan. We exchanged a few pleasantries, and then I thought about him throughout the day as I knew his team was tending to the local cable facilities to keep people connected and informed. I saw him interviewed later in the week, describing his team's heroic efforts to keep communications flowing.
Like you, I have countless memories of the personal and professional aftermath of that horrendous day. The only rare experience I had is that I was one of the relatively few people who was in both New York and Washington on that tragic day. I had arrived in Manhattan on Monday night and I eventually got to Penn Station and caught a train back to my D.C.-area home by Tuesday evening. Among my indelible memories: the smoky plumes of lower Manhattan as seen from a Metroliner in New Jersey.
Needless to say, no business was conducted between my colleagues -- Israeli producers pitching a game show -- and Comedy Central that day. Perhaps the most memorable words I heard were from the chief of the Israeli team, who said, "This is much worse than anything we've faced, but now you know what we go through all the time."
A decade-and-a-half later, against the background of tributes and memorials, the terrorism conversation that ramped up in the autumn of 2001 continues unabated and has grown more volatile. With new media platforms that have fed our ability to obsess over live news, we're more connected -- if not more informed -- than ever. As I look ahead to what the next wave of technology, information and ideas will bring us -- digitally and instantaneously -- we need more of the dedicated commitment that we saw on 9/11 of 2001.
(Pictured: Gary Arlen's copy of the 9-17-2001 issue of Multichannel News)
The smarter way to stay on top of the multichannel video marketplace. Sign up below.
Contributor Gary Arlen is known for his insights into the convergence of media, telecom, content and technology. Gary was founder/editor/publisher of Interactivity Report, TeleServices Report and other influential newsletters; he was the longtime "curmudgeon" columnist for Multichannel News as well as a regular contributor to AdMap, Washington Technology and Telecommunications Reports. He writes regularly about trends and media/marketing for the Consumer Technology Association's i3 magazine plus several blogs. Gary has taught media-focused courses on the adjunct faculties at George Mason University and American University and has guest-lectured at MIT, Harvard, UCLA, University of Southern California and Northwestern University and at countless media, marketing and technology industry events. As President of Arlen Communications LLC, he has provided analyses about the development of applications and services for entertainment, marketing and e-commerce.