The Prospect of Trump TV on The Donald's Own Terms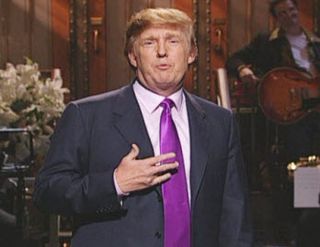 Speculation about a "Trump Channel" accelerated this week after a Bloomberg Politics report interpreted clues that such a plan is in the works -- then described why it would be very hard to launch in today's cable "skinny bundle" environment.
Citing the media credentials of GOP presidential candidate Donald Trump's new campaign CEO, Stephen Bannon (former Breitbart News chairman), and Trump adviser Roger Ailes (Fox News founder and former chairman-CEO), the Bloomberg analysis suggested that the Republican candidate's vision includes a long-term media presence. Bloomberg writer Gerry Smith, though, acknowledged that the Trump campaign didn't respond to queries about such plans and that others close to Trump contended "there's no serious effort right now."
So much for plausible deniability.
On Anderson Cooper 360 a couple weeks ago, CNN media reporter Brian Stelter also visualized a Trump TV network, adding Roger Stone's name to the mix; Stone is a Trump operative whom The New York Times described as a "renowned infighter" and a "seasoned practitioner of hard-edged politics."
Stelter said Trump (pictured in an appearance on Saturday Night Live) "has all the right people to put in place a new media company."
"[W]hether it's a television network or on Facebook or something, we can't picture yet," he added. "I think we have to at least consider that possibility even if Trump would never acknowledge that's real today."
The idea that media-hungry Trump would enjoy a name-branded network has been bruited about for several months. Trump's route to a full-time channel could go to pay TV or to an over-the-top subscription service, although both routes pose expensive challenges.
Detractors point out that The Oprah Winfrey Network (OWN) on cable/satellite took four years and estimated losses of more than $300 million until it reached profitability. The $10-per-month online "Sarah Palin Channel" lasted one year.
Even conservative talker Glenn Beck's provocative cable and online channel The Blaze is facing growing hurdles. Via its agreement with the National Cable Television Cooperative, Dish Network and other distributors, The Blaze claims to be available on more than 100 systems.
But Cablevision, in the midst of its Altice takeover, dropped The Blaze last month, and reports indicate that the online Blaze.com version has plateaued at about 400,000 subscribers, who pay $9.95 per month or $99.95 annually.
Appropriate to the media frenzy surrounding all things Trump, reality is fungible. In the era of skinny bundles, a channel would encounter difficulty in finding a place on the cable tuner, although there are several options for a digital presence.
A Trump Channel could acquire the channel of an existing network, as Al Jazeera America did when its parent bought Current TV: AJAM has since shut down, and those channel slots evaporated. Or it could partner with an existing network, such as the conservative One America News Network, which is available in about 15 million homes via affiliates in more than 80 markets.
"If Mr. Trump has interest in launching a cable news channel after the election ... he could simply give us a call," Charles Herring, president of Herring Networks Inc., which owns OANN, said in the Bloomberg report. OANN debuted July 4, 2013.
Trump's interest in a media outlet was also described in a June Vanity Fair report by Sarah Ellison. She cited Trump's frustration about "his ability to create revenue for other media organizations without being able to take a cut himself."
The article quotes an anonymous insider saying that Trump has "gotten the bug" and that he believes he has "the business acumen and the ratings for his own network" and "now wants to figure out if he can monetize it."
The Vanity Fair article also cites conversations Trump reportedly had with NBCUniversal CEO Steve Burke in 2011, when Trump was considering a 2012 White House campaign. One concept was that if Trump ran for president "and on the off chance that he won, he would continue to star in The Apprentice from within the White House." Burke turned down that idea.
Other potential alliances with operators or programmers are possible, although the pricing would be problematic. Trump's notoriously low-priced campaign (so far) would face hefty distribution and production costs. The Smith article points out that Rupert Murdoch reportedly paid cable operators $300 million to carry Fox News Channel when it launched 20 years ago. Moreover, unless the programming is a non-stop loop of All-Trump-All-the-Time, the channel would have to pay talent and studio expenses. Alternatively, it might use paid programming and documentaries supplied by conservative political groups that already produce countless hours of content.
The Bloomberg Politics evaluation, citing an unidentified source, suggests that a Trump Channel could earn back its investment in less than five years if it were able to reach 60 million homes and charge $2 to $3 a month per subscriber.
Ad revenue could also pose a challenge. Skeptics point to the advertisers who pulled out of sponsoring the Republican National Convention in July. Yet there appear to be many other advertisers -- especially doctrinaire policy groups -- that would support a conservative channel with a star figurehead.
Cynics already question if any OTT approach is possible, given the Palin and Beck track records, suggesting that not enough Trump supporters would go to the effort to use or to pay for an online or SVOD option.
Finally, the prospect of a Trump Channel on any platform raises the question of access to its figurehead, especially if Trump wins the election and a channel materializes. Some might say that there would be no need for a channel, given POTUS's full-time access to media.
But aside from First Amendment issues and the traditional access to the White House, how would a President Trump seek to control the flow of information via "his" channel vis-à-vis other platforms?
With the unprecedented processes of this campaign, it's truly anyone's guess what political TV will look like in the next few years.
UPDATES: Ailes's role might be quite limited, thanks to a multiyear non-compete clause in his contract. According to the latest article (published Friday, Sept. 2) by Ailes chronicler Gabriel Sherman in New York Magazine, Ailes's severance deal "prevents him from going to a rival network (but, notably, not to a political campaign)." The article acknowledges that Ailes's interests have focused on political power, not simply media eminence.
Another media figure who could become part of the Trump TV effort is top Trump adviser Anthony Scaramucci, a hedge fund executive and head of the company that owns Wall Street Week, a weekly investment talk show on Fox Business Network. Scaramucci's SkyBridge Media LLC, affiliated with his SkyBridge Capital investment firm, bought the venerable syndicated program in 2015; he is a co-host of the show as well as an investment commentator on Fox Business Network and Fox News Channel. In a May Vanity Fair article, Emily Jane Fox characterized Scaramucci as formerly "the loudest Trump hater on Wall Street" who has now become "one of his biggest fund-raisers."
The smarter way to stay on top of the multichannel video marketplace. Sign up below.
Contributor Gary Arlen is known for his insights into the convergence of media, telecom, content and technology. Gary was founder/editor/publisher of Interactivity Report, TeleServices Report and other influential newsletters; he was the longtime "curmudgeon" columnist for Multichannel News as well as a regular contributor to AdMap, Washington Technology and Telecommunications Reports. He writes regularly about trends and media/marketing for the Consumer Technology Association's i3 magazine plus several blogs. Gary has taught media-focused courses on the adjunct faculties at George Mason University and American University and has guest-lectured at MIT, Harvard, UCLA, University of Southern California and Northwestern University and at countless media, marketing and technology industry events. As President of Arlen Communications LLC, he has provided analyses about the development of applications and services for entertainment, marketing and e-commerce.