Pai Pushes FCC Agenda at FSF Telecom Policy Conference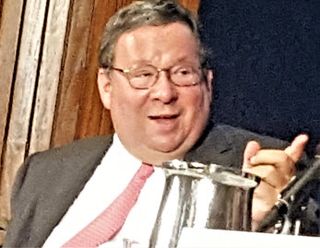 FCC chair Ajit Pai offered details about why his proposed FCC Office of Economics and Data would provide "critical functions" for the agency, and he insisted on Wednesday (May 31) that he does not have "any pre-ordained position" on the paid-prioritization elements in his plan to undo the Open Internet rules.

Pai repeated his view that the agency's 2015 net-neutrality regulations "are curtailing investment in infrastructure," especially affecting "small operators [who] are prevented from getting financing."

In wide-ranging remarks at the Free State Foundation's Ninth Annual Telecom Policy Conference, Pai also affirmed his stance on the ongoing broadband privacy issue, saying, "The regulatory framework should be consistent. ... The core principles [are] in sections of the Act."

Earlier at the FSF event, Comcast senior executive vice president David Cohen revealed that Comcast reduced its "capital spend by $2.5 billion over a three year period" because of the uncertainty triggered by the current Open Internet rules. Cohen chastised groups such as FreePress and the Internet Association, which claimed that the FCC ruling has had no effect on capital investment.

"Title II was raised in every conversation" at Comcast about capital budgets, Cohen said, characterizing it as "a rate-regulation policy." He said that in some cases, the rules "delayed launch of services for 18 months."

Related: Videos From the Free State Foundation's Ninth Annual Telecom Policy Conference (via C-SPAN)

Most of the day's speakers fulfilled the anti-regulatory mission of the right-leaning FSF program's title: "New Directions for Communications Policy: Less Regulation, More Investment and Innovation." The assault continued through the final speaker, Duke University economics professor Michelle Connolly, who declared that unless Congress stops regulatory over-reach, "there is a 100% probability of someone making a regulatory grab."

Connolly warned that the current deregulatory approach at the FCC "may only last as long as Pai's chairmanship" and that future "random rules" would slow innovation.

Meredith Baker, president/CEO of CTIA: The Wireless Association, emphasized the need "to get policy right" as the FCC addresses 5G (fifth-generation) wireless services. She said her industry needs broadband policies that will support the expected $275 billion pricetag for building the new networks, including doubling the number of small cell towers for pervasive 5G delivery.

"We won the race in 4G, we need to do it in 5G too," Baker said, adding that preparing for spectrum auctions that will be involved in long-term 5G deployment "takes a lot of time and planning. We really need a long time in advance."

Pai 'Hopeful' on ISP Rules
During his on-stage conversation with FSF president Randolph May, Pai contended that there is "a lot of agreement" among Internet service providers and the FCC about how ISP practices could be governed under Title I. He said he's "hopeful that the agency can craft appropriate policies," noting that "consumers have uniform expectations" about protections they receive no matter what Internet services they use.

As for spectrum policy, Pai said, "Consumers are demanding a faster, better level of connectivity" and noted that on the local level, delivering such service should be a "cooperative effort."

May opened the session by asking Pai if he brought his "weed whacker," a reference to Pai's December speech at another FSF event where he used the metaphor to describe his deregulatory approach. May cited a recent article by MCN's John Eggerton that said the phrase had "gained cultural currency within and beyond communications circles."

Pai simply said, "It's best to move on."

Pai spent considerable time describing his efforts on process reform at the FCC, calling the initial results "significant" for reducing the burden on the Commission's staff. He said that the "front-loaded" three-week advance notice for open meeting agenda items has eliminated the "problematic" challenges of 11th-hour marathons on the night before Commission meetings.

Pai characterized his plan to establish an Office of Economics and Data within the FCC as "one of the most critical factors" on his agenda.

"I want us to be data driven, to have all Commission economists in one place ... to encourage more collaboration on big picture issues," Pai said. He pointed out that since 2012, "we've had zero economic working papers," indicating that the growing complexity of FCC decisions requires greater financial and economic analyses.

Cohen Seeks Regulatory Rationale
At the panel session entitled "Challenges and Opportunities Ahead," Comcast's Cohen acknowledged the value of FCC policy on topics such as net neutrality; but he emphasized that "the light touch until the past five years" was a better approach, insisting that the "No. 1 priority for our company and our industry" is to keep the U.S. on the leading edge.

"It is crucial to adopt policies to continue private investment," Cohen said.

"We can support net-neutrality rules but you don't have to do it under Title II," he added. "We can make a lot of progress if we focus on policies [such as] universal broadband deployment and adoption."

Citing the approach of former FCC chair Julius Genachowski (the Obama administration's first chair), Cohen said, "Strong, legally enforceable net-neutrality rules should meet a number of standards." He criticized the current rules, pointing in particular to the "general conduct" section, which he called a "catch-all" and "double-edged sword" that "perpetuates contention" and could be used to attack zero-rating rules, among other things.

"The purpose [of regulation] is to end the game of regulatory ping-pong," Cohen said.
The smarter way to stay on top of the multichannel video marketplace. Sign up below.
Contributor Gary Arlen is known for his insights into the convergence of media, telecom, content and technology. Gary was founder/editor/publisher of Interactivity Report, TeleServices Report and other influential newsletters; he was the longtime "curmudgeon" columnist for Multichannel News as well as a regular contributor to AdMap, Washington Technology and Telecommunications Reports. He writes regularly about trends and media/marketing for the Consumer Technology Association's i3 magazine plus several blogs. Gary has taught media-focused courses on the adjunct faculties at George Mason University and American University and has guest-lectured at MIT, Harvard, UCLA, University of Southern California and Northwestern University and at countless media, marketing and technology industry events. As President of Arlen Communications LLC, he has provided analyses about the development of applications and services for entertainment, marketing and e-commerce.