Pace Also On Board With Comcast's 'XG2'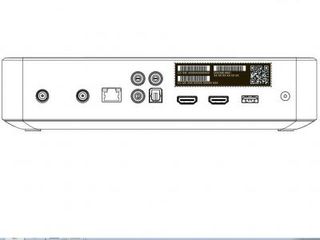 Instead of figuring out who is developing a next-gen hybrid gateway for Comcast's X1 platform, it might be a helpful exercise to determine who isn't?
Offering more evidence that Comcast could be nearing the formal introduction of the mysterious "XG2" gateway, a version from U.K.-based set-top maker Pace recently passed through the FCC for testing.
The FCC test documents, first spotted by The Donohue Report, reveal some details on a the coming hybrid (QAM/IP) gateway device (a schematic of the unit is pictured above), with tests run on two boxes – one equipped with a CableCARD module from Arris, and another with a security module from Cisco Systems. As The Donohue Report notes, it'll also come with integrated WiFi, Bluetooth and ZigBee radios.
Pace already makes the XG1, an HD-DVR with six tuners that currently anchors the X1 platform, as well as a new IP-only Xi3 client device that Comcast is rolling out in select markets.
It's also the latest vendor to be tied to the XG2. A model made by Samsung surfaced at the FCC in January, and a rendering of that model made by Cisco Systems has also appeared online.
Comcast hasn't revealed any other detail about the XG2, though a source familar with the model said it's a headed gateway that that doesn't contain a local DVR, making it a logical candidate for Comcast's new Cloud DVR. FCC documentation of Samsung's XG2 also showed the presence of an SD card with the "Xfinity Instant Replay" label that will likely be used to buffer up to 25 minutes video – enough for subscribers, for example, to pause, rewind and fast-forward through recently-viewed linear TV programming. Comcast recently started to support that functionality in its Xi3 client devices.
Samsung and Cisco, meanwhile are also among the vendors working on the Xi4, a smaller, next-gen version of the Xi3 that, a source said, will be capable of supporting 4K video.
The smarter way to stay on top of the multichannel video marketplace. Sign up below.
Thank you for signing up to Multichannel News. You will receive a verification email shortly.
There was a problem. Please refresh the page and try again.