Samsung-Made 'XG2' Surfaces At FCC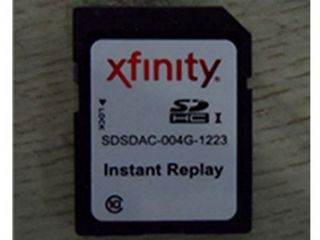 Marking another step forward for a next-gen device for Comcast's X1 platform, an iteration of the mysterious "XG2" box spec'd out by Comcast has passed through the FCC.
This one, made by Samsung, comes a few months after a rendering of it from Cisco Systems made an appearance online.
First spotted by The Donohue Report, the Samsung device, referred to as the Xfinity XG2v2-S, looks about the same as the Cisco rendering. But within the same test on the Samsung product, Donohue also found an image of a 4 Gigabyte flash memory card from SanDisk (see image above), though there's no explanation on how it will be used. You can poke around the report here.
But considering how the memory card is being labeled ("Xfinity Instant Replay"), there's a distinct possibility that it could be used as a way to buffer a limited amount of programming (15 to 30 minutes with some headroom, perhaps?), giving viewers a way to rewind and fast-forward through recently viewed TV programming. Or it might also be used as a vessel to transfer digital media to and from the device.
Comcast isn't commenting on the capabilities of the XG2, but a source familiar with it said that the Cisco model that appeared is a headed gateway that won't contain a local DVR, making it a logical candidate for Comcast's new Cloud DVR.
And the idea of using an SD card in a non-DVR cable box goes back a ways.
In 2010, Advanced Digital Broadcast (ADB) showed a tru2way "set-back" box targeted at retail that also lacked a local DVR, but did come equipped with a slot to hold a standard SD High Capacity card for a limited amount of video storage. At the time, ADB referred to it as "DVR-Lite," noting that it could be used for some limited trick-play functions on live TV.
As for other capabilities, I expect the XG2 to be capable of supporting native 4K video. Comcast offers a limited 4K streaming library to new Samsung Ultra HD sets, and has expressed that it will eventually enable 4K on a new class of boxes for the X1. I am trying to find out if it's another hybrid QAM/IP device, or if this one will be IP-only. However, the innards of the XG2 show that it does contain a CableCARD.
And while we're talking about what's on the X1 roadmap, a source did tell me that the Xi4, a new IP-only client box that also showed its face at the FCC recently, will indeed be 4K-capable.
So, the XG2 and Xi4 – a match made in next-gen video heaven? We'll see.
The smarter way to stay on top of the multichannel video marketplace. Sign up below.