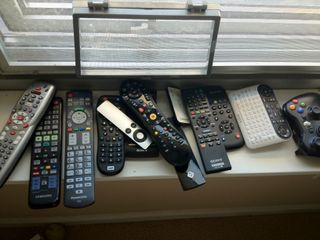 Given that Halloween punctuates the end of this week, it seemed timely to share some changes happening in my small-but-lively over-the-top video lab.
Background: The list of technologies, industries and companies that will "kill the cable industry!" is long and established. First, there was microwave (a technology); then, telcos and satellite (industries); then companies — name any of the OTT constituents. Spooky!
Until the OTT chapter, though, it was cost-prohibitive to conduct any kind of local experiment to vet the would-be cable-killers. A microwave antenna farm doesn't exactly fit in a back bedroom, not to mention the coverage footprints of the subsequent competitors.
That's why, a few years ago, it suddenly made sense (economically and space-wise) to see for myself: What about this growing army of video streamers is better or worse for video-content consumption?
The lab hit its peak in 2012, with a gadget array so wide that the windowsill could barely hold the associated remote controls.
At the end of last year, however, it started to seem like "game over." Google finally found its way (after countless iterations of "Google TV") with Chromecast, at an astoundingly low price point — $35. Between it, Roku and Apple TV, plus the virtualizing of video-streaming into TVs and other hardware gadgets, it started to get dull.
(After that, Amazon's Fire TV came out — too late, but not too little. It remains my personal favorite of the hardware streamers.)
So, this year, we made a deliberate shift in another direction: the "Internet of Things." Between myself and my lab goddess, Sara Dirkse, we're gradually gearing up to watch the IOT trajectory across two specific parameters. One is "stuff that's actually useful." The other is, "That's the dumbest thing I've ever seen."
Here's the short list of both so far. Actually useful: frontdoor webcams, to see who's at the door no matter where you are; beds that conquer snoring partners without the need for pointy elbows; sensors that override the irrigation system on rainy days.
On the dumbest things we've ever seen list: The "selfie sombrero," a ghastly, hot pink bonnet equipped with a tablet holder hanging from its enormous brim; a connected toilet, which quickly got hacked, enabling anyone to flush, open and close the lid, and activate the bidet; a virtual reality apparatus ("airVR"), which essentially straps your tablet to your face; and, my personal favorite, a "smart wig," apparently useful for times when you want to advance a PowerPoint presentation by tugging on its (ghastly) sideburns.
That's the Halloween lab update. Boo! We'll keep the lists growing.
Stumped by gibberish? Visit Leslie Ellis attranslation-please.comormultichannel.com/blog.
The smarter way to stay on top of the multichannel video marketplace. Sign up below.