Oliver's Interpretation of Net Neutrality Casts Comcast as 'Monopolist'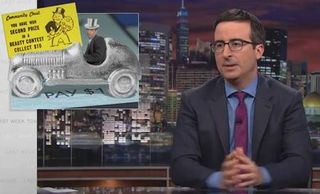 As far as we know, Comcast and Time Warner Cable have remained "neutral" about carrying Sunday's Last Week Tonightshow on HBO.
They may not be laughing about it, but (again as far as we can tell) they haven't excised commentator John Oliver's excoriating analysis of cable's role in the current net neutrality deliberations.
Comic commentator Oliver, with a British dash of old Monty Python and That Was the Week That Was satire, ostensibly offered an objective tutorial about net neutrality in a 13-minute segment on this week's show. It quickly turned into a series of jabs at easy targets in the debate, including FCC chairman Tom Wheeler's former role as an industry lobbyist and the overall yawn-inducing nature of the entire debate.
"The Internet in its current form is not broken," Oliver opined. "And the FCC is currently taking steps to fix that."
Using a video clip from the recent FCC session on net neutrality, Oliver showed part of a statement from FCC commissioner Michael O'Rielly, (not identified by name) and then called the entire discussion "boring [even] by CSPAN standards."
Oliver adopted a serious voice to intone the "weirdly level playing field" of current Internet policies, then quickly jumped to "a mob shakedown" description of Comcast's deal to provide preferential carriage for Netflix. He showed a Netflix-supplied graph to describe how Netflix's speed on Comcast picked up right after the deal between the two companies in late winter.
Oliver peppered his screed with well known (at least within the industry) realities, such as the huge financial contributions from interested parties, including telcos, cable and media companies.
"They have Washington in their pockets ... to an almost unbelievable degree," Oliver said, inserting more video gags.
But his most pointed barbs were aimed at Comcast CEO Brian Roberts, using video from a CNBC interview during last week's CODE conference in California. In it, Roberts described the territorial splits between Comcast and Time Warner Cable (which Oliver characterized in terms of drug cartels splitting up territories). Oliver then went on to Photoshop Roberts into the gear of the Monopoly game character, scolding that, "You can't reduce competition when nobody is competing." (Roberts' comments appear about 7:45 minutes into the Oliver segment.)
Either by oversight or ignorance, Oliver didn't mention that CNBC's parent company is an investor in Re/Code, the company that runs the conference at which Roberts was a high-profile speaker.
Throughout the segment, Oliver layered on the easy marks in the net neutrality war-of-words. He observed that the issue is "so egregious [that] activists and corporations have been forced onto the same side."
The segment concludes with a sermon-like appeal - akin to the famous "Mad as Hell" harangue in the classic movie Network - in which Oliver urges all the "commenters" who are so quick to voice opinions online to accept the FCC's invitation for public input about net neutrality.
"This is the moment you were made for, commenters," Oliver pleads, pointing to the "FCC.gov/comments" link to which they can fume about net neutrality. "Focus your indiscriminate rage in a useful direction," he screams as he jumps and begs for angry action.
Fun stuff. As if it will matter.
Contributor Gary Arlen is known for his insights into the convergence of media, telecom, content and technology. Gary was founder/editor/publisher of Interactivity Report, TeleServices Report and other influential newsletters; he was the longtime "curmudgeon" columnist for Multichannel News as well as a regular contributor to AdMap, Washington Technology and Telecommunications Reports. He writes regularly about trends and media/marketing for the Consumer Technology Association's i3 magazine plus several blogs. Gary has taught media-focused courses on the adjunct faculties at George Mason University and American University and has guest-lectured at MIT, Harvard, UCLA, University of Southern California and Northwestern University and at countless media, marketing and technology industry events. As President of Arlen Communications LLC, he has provided analyses about the development of applications and services for entertainment, marketing and e-commerce.
The smarter way to stay on top of the multichannel video marketplace. Sign up below.
Thank you for signing up to Multichannel News. You will receive a verification email shortly.
There was a problem. Please refresh the page and try again.