Netflix CEO Lukewarm on Demand for Streaming Shows on VR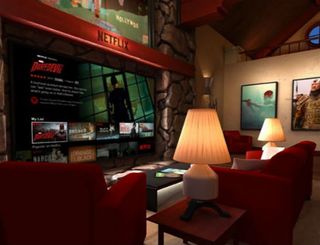 Netflix is offering some mixed messages with respect to virtual reality.
Always game to try out new platforms, Netflix jumped into the mix last year by developing an app for the Oculus-powered Samsung Gear VR that features a digitized living room and a virtualized screen that display shows and movies from Netflix's substantial library. Hulu just launched its VR app, and, as I see it, took the idea several steps forward.
The topic of VR came up on Monday's Netflix's Q1 earnings call, and CEO Reed Hastings has what appears to be a somewhat lukewarm attitude to the emerging platform.
"I think it's mostly going to be an intense gaming format for a couple years due to the price of the consoles," Hastings said, still hopeful that pricing on VR products will come down and become more ubiquitous. "I don't think it will have a direct effect on us in the next couple years because I think the center point for VR will be other sorts of things than watching a TV show in a VR headset. I don't think that will be very popular," Hastings said.
That was one of several nuggets to come from the call.
Hastings, who predicted that Amazon would eventually launch a stand-alone subscription service years ago, took the news that Amazon did just that this week in stride.
"[T]his is all part of the natural evolution from linear TV to Internet TV," he said after praising some of the "great work" being done not just by Amazon, but by Hulu, HBO and Showtime.
And don't expect Netflix to follow in the footsteps of Yahoo and Twitter and tackle live sports. "[T]here's no interest in live sports currently," he said.
Hastings also addressed Netflix's controversial decision to reduce the quality of streams delivered on Verizon and AT&T cellular networks to help users keep their exposure to data caps in check (Netflix plans to introduce a "data saver" for mobile apps next month).
"[W]e've added lots of options over time to allow more customization," he said. "If you look, we've had one on the wired side. We just hadn't implemented it yet or rolled it out on the mobile side. So it's always been planned."
And Netflix appears to be a bit more open to the idea of allowing customers to download (rather than just stream) its content – something that Amazon allows for a portion of its library – as it continues its global expansion.
"We should keep an open mind on this," Hastings said. "We've been so focused on click-and-watch and the beauty and simplicity of streaming. But as we expand around the world, where we see an uneven set of networks, it's something we should keep an open mind about."
Thank you for signing up to Multichannel News. You will receive a verification email shortly.
There was a problem. Please refresh the page and try again.