A Deeper Look at the Netflix VR Environment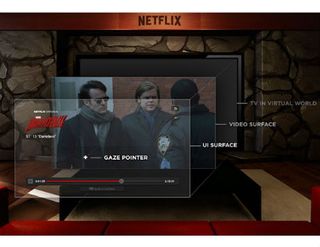 Whether it's been tablets, smart TVs or the latest, greatest streaming device, one can count on Netflix to be among the first to jump on board a new platform. That goes for virtual reality, too.
Working in tandem with Oculus, Netflix is among the first video streamers to develop an app with an interface that's optimized for the Samsung Gear VR, the virtual reality headset that needs to paired to a Samsung smartphone. Others such as Hulu and Twitch will be joining the mix soon.
While this doesn't give the actual VR experience justice, this YouTube video from Road to VR offers a sense of what the app is like:
Meanwhile, John Carmack, the CTO of Oculus, who did most of the development work on it, offered a bunch more technical detail about the effort in this Netflix blog post, noting that the core app uses two Android Surfaces – one for the user interface layer and another for the decoded video layer.
"Despite all the talk of hardcore gamers and abstract metaverses," he wrote, "a lot of people want to watch movies and shows in virtual reality." And getting the leading streaming service on board was key, in Carmack's point of view. "A year ago, I had a short list of the top things that I felt Gear VR needed to be successful. One of them was Netflix."
Oculus and Netflix, he explained, were able to get the UI running in VR within two days, with video playback capability following "shortly thereafter" using an app called VR 2D Shell that "functioned like a very simplified version of our Oculus Cinema application."
Still, it wasn't all easy peasy, as it was a challenge, Carmack explained, to provide smooth playback, and that the engineers had to use a special set of code just for the viewscreen portion of the VR view to ensure a high-resolution image.
And here's more detail on how the video streaming challenge in a VR environment was met for this initial app:
"Still, it is drawing a 1280 pixel wide UI over maybe 900 pixels on the screen, so something has to give. Because of the nature of the distortion, the middle of the screen winds up stretching the image slightly, and you can discern every single pixel in the UI. As you get towards the outer edges, and especially the corners, more and more of the UI pixels get blended together. Some of the Netflix UI layout is a little unfortunate for this; small text in the corners is definitely harder to read.
"So forget 4K, or even full-HD. 720p HD is the highest resolution video you should even consider playing in a VR headset today."
The smarter way to stay on top of the multichannel video marketplace. Sign up below.