NAB 2017: 'Discoverability,' Social Media at Heart of TV Evolution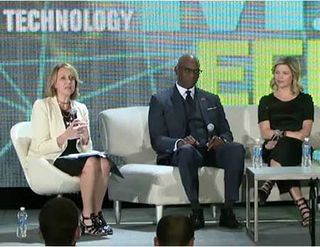 Amid the technology overload at the National Association of Broadcasters convention, programming and marketing are often the forgotten step-children of the converging/diverging media world.

Although the TV ecosystems had plenty of content and advertising participants among the 103,000 people at last week's NAB Show in Las Vegas, it was CTAM, a cable TV stalwart, that produced a first-day SuperSession on April 24, which plunged into the complicated content issues at the core of the media landscape.

As Vicki Lins, president and CEO of the Cable & Telecommunications Association for Marketing, explained, "marketing and content are at the 'Center of Media Transformation,'" which happened to be the title of the session she moderated. Lins characterized them as "fundamentally driving changes in how companies are engaging with consumers."

[The 55-minute panel discussion is available as a video stream HERE.]

Jamia Bigalow, senior VP, distribution marketing at Fox Networks, affirmed the necessity of thinking across platforms.

"For us it's more important than ever to build our network brands, especially because of multiple channels," Bigalow said. She explained that Fox is "busier than ever because we have more ways than ever to distribute," emphasizing that the distribution windows are "overlaying each other," thus requiring new tactics for viewer engagement.

"You have to be where the eyeballs are," Bigalow added, stressing that "Fox brands are highly social" and that current efforts are focused on "maintaining viewership after launch" of new programs. She recommended that programmers "find an organic path," which often involves working with "a lot of partners in promotional relationships."

NAB 2017: Altice USA Peeks Over-the-Top

Bigalow also pointed out that people are "spending more time viewing and less time searching for shows, which improves monetization." She urged programmers to think about "discoverability" and "all the ways that content is being served." In particular, Bigalow said that meta-data enables "content discovery to run very deep."

Another panelist, Thomas Hughes, executive VP, Worldwide Digital Distribution for Lionsgate, affirmed the importance of content discovery as creating new ways to build interest in a show. He emphasized that in today's multitasking era, it's vital to understand how consumers engage in programs.

Hughes also described the transformation of his company (a studio) after its acquisition of the Starz pay TV network and divestiture of its share of Epix network.

NAB 2017: O'Rielly Says Pai Could Herald FCC Golden Age for Broadcasters

"We have 90 shows across 40 networks," he explained. "We are perfectly willing to sell, create and distribute content across lots of different platforms. That puts us in a unique position. We don't think of ourselves as a brand because we have so many brands," including ethnic and specialty labels.

Hughes focused on the value of program brands rather than studio or network brands. He cited Lionsgate-produced shows such as Orange Is the New Black (which a Lionsgate unit makes for Netflix), Mad Men (for AMC) and Nashville (which originated on ABC-TV broadcast network and is now carried on CMT and Hulu). Hughes called Nashville distribution "a hybrid solution," which he attributed to "the nature of windowing, which is what we do."

James "JB" Brown, executive VP, Content Distribution, Talent and Marketing at Revolt Media and TV, emphasized the challenge of launching a new network - especially one aimed at millennials and Generation Z audiences. He stressed that young viewers "look at shows differently because they get programs somewhere else, not necessarily on the linear network.

Brown acknowledged that Revolt's goal, which he credited to the vision of its co-founder Sean Combs (aka Diddy, Puff Daddy, etc.), is to reach young viewers who instinctively know "what music is coming next or who will perform."

"They may access us through streaming, through our network or through YouTube," Brown said. But the network always seeks to push its brand. "We always say something about Revolt and our distributors to remind them [the viewers] how to get the full network."

Image Caption: (From left) NAB Content panel: Vicki Lins, CTAM; JB Brown, Revolt Media; and Jamia Bigalow, Fox Networks.
The smarter way to stay on top of the multichannel video marketplace. Sign up below.
Contributor Gary Arlen is known for his insights into the convergence of media, telecom, content and technology. Gary was founder/editor/publisher of Interactivity Report, TeleServices Report and other influential newsletters; he was the longtime "curmudgeon" columnist for Multichannel News as well as a regular contributor to AdMap, Washington Technology and Telecommunications Reports. He writes regularly about trends and media/marketing for the Consumer Technology Association's i3 magazine plus several blogs. Gary has taught media-focused courses on the adjunct faculties at George Mason University and American University and has guest-lectured at MIT, Harvard, UCLA, University of Southern California and Northwestern University and at countless media, marketing and technology industry events. As President of Arlen Communications LLC, he has provided analyses about the development of applications and services for entertainment, marketing and e-commerce.