Magic Leap Intros 'Creator's Edition' AR Platform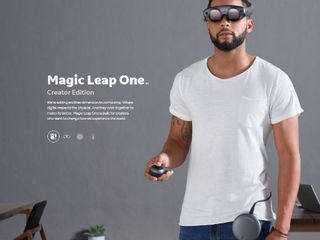 Magic Leap, the well-heeled and super-secretive augmented reality startup, has finally shed some light on its early product plans.
The timing of a consumer product is still under wraps, but Magic Leap this week said a "Creator's Edition" AR platform will start to ship in 2018. Magic Leap hasn't released pricing details on that initial product, however, but did say the Creator Portal (which includes access to Magic Leap's SDK)l for it will launch early next year
That initial system, called Magic Leap One and targeted to the development community, is comprised of three components:
-Lightwear: The AR glasses/headset, which combines the startups Digital Lightfield technology (which uses lightfield photonics to generate digital light that blends with natural light to make digital objects look "lifelike" when paired with the real world) with environment mapping, precision tracking and "soundfield audio," which allows the user to hear sound from the direction it's coming from.
-Lightpack: A device, working in tandem with the headset, that powers the Magic Leap's spatial computing platform, baking in the high-powered processing and graphics.
-A controller with haptic feedback that, the company claims, supports "six degrees of freedom, movement feels smooth, intuitive and responds to your every gesture."
Magic Leap, which has raised about $1.9 billion, is pushing forward as companies such as Facebook, Microsoft and Apple also gear up to make a mark in AR.
Among them, Apple recently acquired Vrvana, a maker of a "mixed reality" headset that's expected to factor into Apple's reported plans to launch an AR headset as early as 2020.
The smarter way to stay on top of the multichannel video marketplace. Sign up below.