Likely Connections for IoT Ventures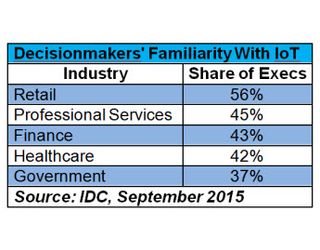 For operators eyeing Internet of Things projects, their best allies may be in the retail sector, while the traditionally laggard healthcare and government categories are likely to be late adopters of IoT technology.
In its "2015 Global IoT Decision Maker Survey," International Data Corp. (IDC) found that more than 90% of executives who know about IoT expect that it will be important in some way, although they don't necessarily know how or why it will be so.
The IDC study also found vast pockets of unawareness of IoT, with fewer than half of decision-makers in categories such as finance, healthcare and government familiar with IoT and its capabilities (see table, pictured).
IDC's research (which focused on enterprise, not residential IoT plans) suggests potential collaborative allies for operators that are developing IoT agendas. Opportunities range from integrated home services development to key advertising/marketing alliances between operators and application providers.
The just-released global study also found that "security remains a leading challenge," but IDC said "upfront and ongoing costs have become the top challenges" for potential IoT implementation. IDC also found that software vendors are overtaking hardware suppliers as the leading force in IoT expansion.
In addition, IDC said development trends point toward IoT processing at the edge of the network (that is, near the user site). It concluded that such a structure will pose a major challenge to "many IoT architecture designs."
"IoT momentum continues to grow, and our survey shows that it is seen as strategic to the enterprise," said Vernon Turner, IDC senior vice president and research fellow, Internet of Things. But although the decisionmakers thought IoT would be of strategic importance to their businesses, only 24% of respondents considered it to be "transformational."
Strangely, 73% of respondents told IDC that IoT is part of their current 12-month deployment plan agenda -- despite the seeming unawareness of IoT details by so many decisionmakers. The seemingly incongruous finding suggests that many executives have their own definition of what exactly constitutes an IoT plan.
Similarly, in a somewhat contradictory finding, IDC found that the healthcare industry leads the field with 72% of respondents identifying IoT as a strategic tool. Again, that suggests that healthcare -- often cited as a poster child for IoT deployment, especially for monitors, sensors and wireless capabilities -- may pose a disconnect. For example, IoT connections may be established within medical facilities but not extend as quickly as expected into residential environments. That could affect operators' enthusiasm for IoT infrastructure.
The main three reasons for IoT activity among the IDC respondents were increased productivity (cited by 14.2%), shortened time to market (11.8%) and new opportunities for business process automation (10.1%).
Contributor Gary Arlen is known for his insights into the convergence of media, telecom, content and technology. Gary was founder/editor/publisher of Interactivity Report, TeleServices Report and other influential newsletters; he was the longtime "curmudgeon" columnist for Multichannel News as well as a regular contributor to AdMap, Washington Technology and Telecommunications Reports. He writes regularly about trends and media/marketing for the Consumer Technology Association's i3 magazine plus several blogs. Gary has taught media-focused courses on the adjunct faculties at George Mason University and American University and has guest-lectured at MIT, Harvard, UCLA, University of Southern California and Northwestern University and at countless media, marketing and technology industry events. As President of Arlen Communications LLC, he has provided analyses about the development of applications and services for entertainment, marketing and e-commerce.
The smarter way to stay on top of the multichannel video marketplace. Sign up below.
Thank you for signing up to Multichannel News. You will receive a verification email shortly.
There was a problem. Please refresh the page and try again.