ITIF: Media Coverage of Technology Grows Increasingly Negative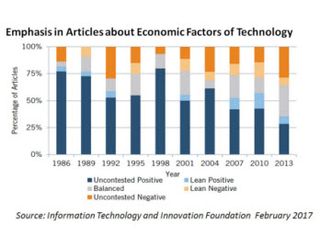 Amid today's growling about media biases, and at the risk of seeming like self-serving omphaloskepsis, here's a study that shows how press coverage of the technology industry has become increasingly more negative. Although cable and satellite technology are not singled out in the analysis by the Information Technology and Innovation Foundation, the report's survey of the 27-year period from 1986 to 2013 coincides with the boom in multichannel technology and services starting in the 1980s.

In other words, the growing public skepticism about cable operations fits into a larger picture that has steered the public and policymakers toward questioning the value of technology, ITIF said, noting that it examined media's role because it "has important implications for public policy."

"Coverage that is slanted in one direction or another can drive public opinion — and thus policymakers — to favor unnecessary, unwarranted, or unwise policy interventions," ITIF said. The group emphasized that public officials often cite surveys of consumer attitudes "as part of their rationale for new laws and regulations for digital services."

As one of the report's charts (pictured) demonstrates, the tone of technology stories has shifted significantly over the years, with more purely negative and far fewer "uncontested positive" information, especially in the past 10 years.

"While coverage of technology in the 1980s and early 1990s was largely favorable, that tone has gradually shifted over the years, with more articles highlighting the potential ill effects of technology," the report said.

Perhaps the best news from the analysis, released on Wednesday (Feb. 22), is that there appears to be more "balanced" coverage in the most recent stories that ITIF evaluated.

"It is important to ensure that technology coverage airs diverse perspectives without giving any side more weight than is warranted," said Daniel Castro, ITIF's vice president and the report's co-author. "If technology reporting continues with the trend we're seeing toward pessimistic -- and in some cases technophobic -- critiques, it will likely spur policymakers and the public to support even more unnecessary, unwarranted or unwise policy interventions."

For its study, ITIF conducted a textual analysis of 250 articles from The New York Times, the Wall Street Journal, and The Washington Post from 1986 to 2013 to assess the tone of tech reporting. It focused on three primary categories: economics, culture and security. ITIF concluded that there was a decided shift in the tone of commentary from academic sources, away from more neutral, objective and scholarly analysis, toward more pointed, headline-grabbing critiques.

Castro and co-author Doug Allen, a Consortium for Media Policy Studies (COMPASS) fellow at ITIF, contended that this rise in pessimistic coverage did not correspond to a real-world increase in the dangers of technology. Instead, they attributed the less favorable media portrayal of technology to a handful of factors affecting the mainstream media ecosystem, including:


A significant increase in the number of organizations and "attention-seeking scholars" focused on painting a threatening picture of technology;
News organizations under increased financial pressure, meaning that reporters may have less time and fewer resources to dig deep into technology issues; and
Media outlets that count on online page views to generate revenue have an incentive to pursue alarmist stories that generate clicks.

For system operators and technology vendors -- and especially for their marketing and communications staff -- the ITIF findings quantify a continuing problem: how to sell increasingly complex systems to skeptical consumers groomed by daily press reports about the threats from technology. Although ITIF's study was limited to three influential publications, the messages inevitably reached out far beyond the readers of those widely-redistributed newspapers.

ITIF's findings also suggest that the tech industries should move beyond navel-gazing into more aggressive ways to explain the value of technologies.

The 18-page report urged media not to abandon the "responsibility to report all sides of a story accurately or allow for diverse perspectives." But ITIF cautioned that media should not "give more weight to the pessimists and technophobes than is warranted -- even if doing so generates more revenue."

"Media should take steps to ensure its coverage of technology is less biased, and policymakers should be sensitive to the fact that public opinion about technology may be distorted by skewed views," the ITIF report concluded.
Contributor Gary Arlen is known for his insights into the convergence of media, telecom, content and technology. Gary was founder/editor/publisher of Interactivity Report, TeleServices Report and other influential newsletters; he was the longtime "curmudgeon" columnist for Multichannel News as well as a regular contributor to AdMap, Washington Technology and Telecommunications Reports. He writes regularly about trends and media/marketing for the Consumer Technology Association's i3 magazine plus several blogs. Gary has taught media-focused courses on the adjunct faculties at George Mason University and American University and has guest-lectured at MIT, Harvard, UCLA, University of Southern California and Northwestern University and at countless media, marketing and technology industry events. As President of Arlen Communications LLC, he has provided analyses about the development of applications and services for entertainment, marketing and e-commerce.
The smarter way to stay on top of the multichannel video marketplace. Sign up below.
Thank you for signing up to Multichannel News. You will receive a verification email shortly.
There was a problem. Please refresh the page and try again.