Interactive Pizza. Again.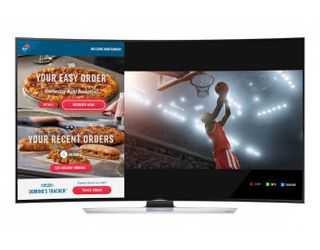 Domino's Pizza's new marketing blast for multi-platform pizza ordering revives decades-old promises about ordering pizza via your interactive TV or online screen. A lot of dough has gone into ideas for interactive pizza purchases over the years. From '80s vintage ventures such as Prodigy and Qube to '90s ads on Oceanic Cable and EON, countless offers have been tossed around to entice viewers to order pizzas via whatever new system was available. (Time Warner's Oceanic system in Hawaii still provides pizza ordering on Channel 998.)
I used to lump them all together as the "inevitable pizza screen," since such plans popped up in almost every launch of a new interactive venture. Some ideas were downright laughable, although at the time they were fluffed up as totally innovative. My favorite (perhaps it came from a company called TV Answer) used the boxy alpha-geometric graphics of the day: As you clicked buttons, colorful lumps of something (representing pepperoni, peppers, onions, extra cheese, etc.) dropped onto a red circle, giving you the impression you were building your own pizza. Another "click," and it was ready for delivery (so long as you had set up an account with the pizzeria).
It seemed that everyone wanted a slice of the project, if not of the pie itself.
For the most part, the ancient pizza screens were pushed by technology vendors, presaging the era of e-commerce and hyping the capabilities -- such as they were -- of the interactive technology.
It was never clear that many (or even any) pizzas were actually peddled via all the attempts.
That's why last week's Domino's campaign launch rang such a nostalgic bell amongst interactive veterans who lived through the countless previous pizza promises. The global pizza purveyor Dominos began running TV commercials showing how to order pizza via Samsung Smart TV sets, texting, smart watches and Ford SYNC (also useful for drive-by pizza pickup).
The commercials feature actresses Eva Longoria (in pajamas watching her smart TV with empty Domino's boxes arrayed around her) and Sarah Hyland, actor Clark Gregg (on an Android smart watch), the Seattle Seahawks' Richard Sherman and NASCAR driver Joey Logano, each touting the ease of ordering a pizza from various platforms. An online-only spot offers a glimpse of the entire campaign.
Underlying the pizza pitch is the Domino's Anyware technology, which recognizes "Pizza Profile" members, i.e., customers who pre-register their preferences, delivery address and billing information. Domino's introduced its digital intentions at the 2014 International Consumer Electronics Show. Visitors wondered at the time why the pizza chain was so visible at that venue, but in retrospect, the tactic worked: Domino's made contact with key platforms operators that are now part of the pizza plan. With nearly $9 billion in global sales last year, Domino's is in a position to cut deals.
In retrospect, the constant promises of on-screen pizza ordering served their function -- although the world was not hungry for such service at the time. Many of the '80s and '90s ventures envisioned the local pizzeria serving up the cheesy pies, even though such small shops then and now lack the technology to deliver such services. Domino's, along with Pizza Hut, Papa John's Pizza and other national chains, have provided online ordering for several years, especially as computer graphics improved and gimmicks declined. Managing big data has also been crucial to these efforts.
Perhaps the most valuable by-product of the new Domino's commercial campaign is that it recognizes the wide use of smart devices (TVs, watches, handsets) -- and is aimed at that likely and jumbo-sized demographic, which largely matches the pizza-buying audience.
For a lot of other delivery-dependent diners, there's a pizzeria magnet with a phone number stuck to the refrigerator door. That small "device" has all the info they need to call in a pizza order now.
The smarter way to stay on top of the multichannel video marketplace. Sign up below.
Contributor Gary Arlen is known for his insights into the convergence of media, telecom, content and technology. Gary was founder/editor/publisher of Interactivity Report, TeleServices Report and other influential newsletters; he was the longtime "curmudgeon" columnist for Multichannel News as well as a regular contributor to AdMap, Washington Technology and Telecommunications Reports. He writes regularly about trends and media/marketing for the Consumer Technology Association's i3 magazine plus several blogs. Gary has taught media-focused courses on the adjunct faculties at George Mason University and American University and has guest-lectured at MIT, Harvard, UCLA, University of Southern California and Northwestern University and at countless media, marketing and technology industry events. As President of Arlen Communications LLC, he has provided analyses about the development of applications and services for entertainment, marketing and e-commerce.