Hulu Sending Invites for Live TV Beta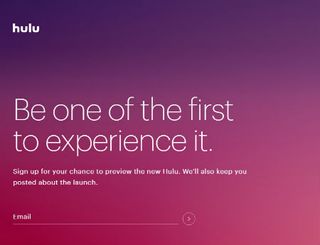 Hulu has reportedly sent out a wave of beta invites for a new virtual MVPD service that's expected to debut sometime in Q1.
Hulu's been asked for further comment, but Cord Cutter News estimates that fewer than 100 invites have been sent, and that the version of the app being tested will look much different than the one that will launch commercially.
Hulu has set up a teaser site for the new live TV service, which will also support a sizable VOD library and a set of personalization features.
Hulu demonstrated at the service at the recent CES confab in Las Vegas. Speaking at the Citi Technology, Media and Telecommunications Conference, also held in Sin City, Hulu CEO Mike Hopkins said the new service will cost less than $40 per month and include Hulu's $8 per month SVOD service (the version with limited ads) and access to a cloud DVR.
RELATED: Hulu Sneaks a Peek at OTT TV Service
Hulu hasn't announced which devices it will support out of the blocks, but Cord Cutter News noted that people interested in the beta test will require an Apple TV and an Android or iOS device.
Hulu's SVOD service already supports a wide range of devices, including Roku players, the Google Chromecast, Apple TV, PS4, PS3, Wii, Wii U, Xbox 360 and Xbox One consoles, Web browsers, Amazon Fire TV, TiVo DVRs, certain Android TV devices, smart televisions from Samsung, LG Electronics, Sony and Vizio, the PS Vita, and Amazon Kindle Fire tablets, among others.
The smarter way to stay on top of the multichannel video marketplace. Sign up below.