How to Survive a Zombie Apocalypse: The Internet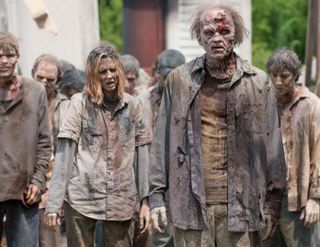 A California wireless broadband provider, spun out from Motorola, has a conducted a study indicating that nearly one of four Americans believe Internet access during a zombie apocalypse could be critical for disaster response teams.
The study also asked which presidential candidate would do the most to encourage policies to build an Internet of Things. To that question, Democrat Hillary Clinton received 28% of the votes, Republican Donald Trump got 24%, Libertarian Gary Johnson scored 5% and Green Party nominee Jill Stein scraped 2%. (Clearly a lot of respondents either had no preference or, more likely, didn't know what IoT is.)
The opportunistic study -- clearly released to leverage search engine optimization (SEO) triggers by headlining popular terms such as Zombie, Trump and "terrorist" -- was intended to "get people to have a conversation about why data is important," especially data backhaul, a marketing executive of the company told Multichannel News.
"We took the most talked about disaster subjects from Google trending topics," he explained. "Consumers don't think in the same language as we do."
He said the study was structured in "disaster" terms that respondents could understand. Although the company called the research its first Internet of Things (IoT) Disaster Response Study" to identify how narrowband radio can be used for "highly reliable and secure transmissions across long distances," it acknowledged that the focus was on the "Industrial Internet of Things" since its customer base overwhelmingly consists of utility and energy providers, federal and local agencies and non-U.S. telecommunications providers.
If IoT is largely unrecognized by consumers, the Industrial IoT is even more obscure. Nonetheless, the study found that 79% of Americans indicated that "industrial use of IoT ... is important to them." Most of the applications addressed in the disaster response study focused on existing Web-based services that do not involve sensor-related or other services usually categorized as IoT ventures.
Among the study's findings, Americans agreed that Internet access would be "a disaster response priority" in a variety of categories:
75% - directions on where to go for food/safety
74% - advisories on need to evacuate
69% - medical professionals sharing information
65% - police sharing timely information
44% - reporters/journalists to deliver information to readers/viewers
25% - politicians to determine where urgent disaster funds should go.
The company concluded that "industrial uses of IoT are important to Americans" because they can be used for disaster-relief operations involving satellite communications, smart electrical grids, military drone operations for surveillance and intelligence-gathering and for smarter border control."
The political survey segment of the study was even more random than the industrial IoT sections, finding, for example, that 34% of respondents in Western states believe that Clinton would be most supportive of IoT compared with just 23% of Midwesterners. Americans living in the South are more likely to say Donald Trump would be the best at IoT support, compared to those in the West (26% vs. 19%), according to the study.
Harris Poll, which conducted the online survey of about 2,000 adults last month, said the research did not include a probability sample and "therefore no estimate of theoretical sampling error can be calculated."
The company that promoted this opportunistic research was Cambium Networks. Tomas Puig, marketing VP, pointed out that beyond the hype about zombies and political candidates, the study also identified disaster situations in which Americans consider Internet access to be vital for first respondersl the survey respondents cited terrorist attacks (75%); tornadoes or earthquakes (68%); hurricanes (67%); floods (66%); virus outbreaks (58%); drought (30%); and famine (28%).
Hence, according to this biblical disaster litany, "zombie apocalypse" -- cited by at 25% of respondents -- is a lesser fear than other natural disasters. Yet reading the breathless SEO-centric headlines of the Cambium revelations makes you wonder whether a company that uses the slogan "connecting the unconnected"also has the "undead" on its mind.
The study was released to accompany the debut of Cambium's "cnReach," a narrowband radio for reliable, secure transmissions across long distances that it calls "essential for Industrial Internet of Things" services by oil and gas, electric and water utilities, rail, transportation and mining companies. Cambium's point-to-point backhaul and WiFi solutions can carry signals ranging from two meters to 245 kilometers in one hop.
The smarter way to stay on top of the multichannel video marketplace. Sign up below.
Contributor Gary Arlen is known for his insights into the convergence of media, telecom, content and technology. Gary was founder/editor/publisher of Interactivity Report, TeleServices Report and other influential newsletters; he was the longtime "curmudgeon" columnist for Multichannel News as well as a regular contributor to AdMap, Washington Technology and Telecommunications Reports. He writes regularly about trends and media/marketing for the Consumer Technology Association's i3 magazine plus several blogs. Gary has taught media-focused courses on the adjunct faculties at George Mason University and American University and has guest-lectured at MIT, Harvard, UCLA, University of Southern California and Northwestern University and at countless media, marketing and technology industry events. As President of Arlen Communications LLC, he has provided analyses about the development of applications and services for entertainment, marketing and e-commerce.