High Churn for OTT Services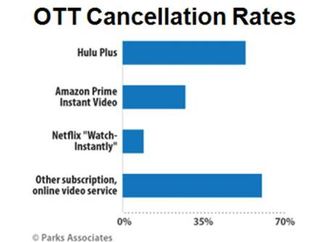 Over-the-top subscribers sample broadband video services then drop them at a sizeable pace, according to a new Parks Associates study. For example, about half of the Hulu Plus viewer base has canceled the service within the past year, which represents about 7% of all OTT households, the research found.
At Netflix, 9% of the consumer base churned off, equivalent to 4% of U.S. broadband homes. Amazon Prime Instant Video's churn rate was about 30% for the past 12 months, according to Park's OTT Video Market Tracker.
Smaller, special-interest OTT services had churn rates exceeding 60%, the Parks analysis revealed. Seven percent of U.S. broadband homes subscribe to an online video service other than Hulu, Amazon Instant Video, or Netflix, said the research firm, which tracks more than 75 OTT services and a dozen more such ventures expected to debut soon. Many of the broadband video options offer ethnic programming or genre content such as health, horror, comedy and kids shows.
"The high churn rate for many of these services suggests that consumers are holding onto their Netflix account while experimenting with the wide variety of other video subscription options," said Brett Sappington, director of research at Parks Associates. Shedding "half or more of your current subscriber base is a huge problem," he added.
"Customer acquisition costs for an OTT subscription service are relatively low, particularly compared to pay TV, but OTT video services will eventually have to capture and retain their customer bases over time in order to survive in the long term," Sappington said.
Parks' analysis points out that OTT subscriptions are relatively cheap, so consumers can easily experiment with different services to find the ones that best suit their interests. Moreover, during initial periods, viewers "can quickly consume the most interesting content within a service and move on," according Parks' research.
Currently, 85% of U.S. broadband households subscribe to a pay-TV service, and 59% of U.S. broadband households access an OTT video subscription. Of those who use OTT video, just under 50% use two or more services.
In a separate study, published in June, Parks found that 7% of U.S. households have broadband and OTT but no pay TV.
Contributor Gary Arlen is known for his insights into the convergence of media, telecom, content and technology. Gary was founder/editor/publisher of Interactivity Report, TeleServices Report and other influential newsletters; he was the longtime "curmudgeon" columnist for Multichannel News as well as a regular contributor to AdMap, Washington Technology and Telecommunications Reports. He writes regularly about trends and media/marketing for the Consumer Technology Association's i3 magazine plus several blogs. Gary has taught media-focused courses on the adjunct faculties at George Mason University and American University and has guest-lectured at MIT, Harvard, UCLA, University of Southern California and Northwestern University and at countless media, marketing and technology industry events. As President of Arlen Communications LLC, he has provided analyses about the development of applications and services for entertainment, marketing and e-commerce.
Thank you for signing up to Multichannel News. You will receive a verification email shortly.
There was a problem. Please refresh the page and try again.