Google Might Cast a Wider Video Net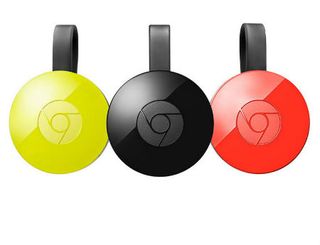 Signaling a possible next step in Google's video- and app-casting strategy, Vizio is gearing up to integrate Chromecast-like capability in some new TV models "as early as this spring," Variety reported Wednesday, citing multiple people familiar with the arrangement.
According to the report, Vizio will back up that plan by teaming those TVs with Android-powered tablets that would as a fancy, dedicated.
Google said it does not comment on rumor and speculation, but if the purported collaboration moves ahead, it will help to extend Google's casting ability well beyond the Chromecast, the company's $35 streaming adapter. Google, which launched a new version of the Chromecast (pictured) last fall, has sold more than 20 million of the devices worldwide.
As Variety points out, making a casting connection with Vizio (and perhaps with more TV makers down the road) raises questions about Google's longer-term plans for Android TV, its new operating system for set-tops, smart TVs, gaming consoles and other types of connected TV platforms. Will this casting strategy, which would let users stream and control video and other types of apps from mobile device to the TV, complement or possibly replace what Google's doing with Android TV?
At this point, I'd lean more toward the commentary side, as a casting-integration play could give Google an additional (and perhaps smoother) path to the television as Android TV struggles to gain much ground on rival platforms from Roku, Apple and Amazon. Plus, Google touted the progress of Android TV at CES, announcing that several additional suppliers, including two Roku TV partners (TCL and Hisense), were jumping on board, so that seems to suggest that they're not giving up on Android TV.
Google execs have also been mentioning both approaches in the same breath. "Dozens of partners are integrating Android TV and Google Cast technology into living room products launching this year," Sundar Pichai, Google's CEO, said on the company's recent Q4 earnings call.
But Google might still be cementing its longer-term play and could end up leaning harder on Google Cast, as Variety also said it heard that Google has been talking to at least on more TV maker about adding Google Cast "without any on-screen apps to its TV sets."
The smarter way to stay on top of the multichannel video marketplace. Sign up below.
Thank you for signing up to Multichannel News. You will receive a verification email shortly.
There was a problem. Please refresh the page and try again.