Google Fiber Won't Put TV on the Menu in Two New Markets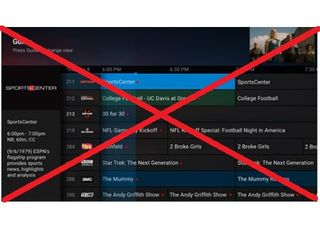 Google Fiber will offer internet service – and internet service only – in two new deployment markets, Louisville and San Antonio, the company confirmed this week.
That means it won't be bundling traditional pay TV services in those locations, as it does now in the other, existing Google Fiber cities, which are starting to see some rate hikes coming courtesy of rising programming costs.
Of course, it's not like Google Fiber subs in Louisville and San Antonio won't have plenty of other options at their fingertips. They can go with another traditional MVPD for TV, or pick from growing mix of OTT TV services, such as Sling TV, fuboTV, Hulu, PlayStation Vue and DirecTV Now.
Also, YouTube TV, Google's own OTT TV offering, does provide service in Louisville and San Antonio. So I'd look for Google Fiber to come up with some creative ways to market and sell YouTube TV to its broadband subs not just on Louisville and San Antonio, but even its legacy markets.
RELATED: YouTube TV Lights Up More Markets
"Customers today want to control what, where, when, and how they get content. They want to do it their way, and we want to help them," Cathy Fogler, the new head of sales and marketing for Google Access, explained in this blog post. "Whether it's through YouTube TV, Hulu, Netflix, or more specific targeted services -- there are so many ways to watch what you want, when you want it. And Google Fiber's superfast Internet allows customers to make the most of all these streaming choices by providing the bandwidth to use multiple devices and apps at the same time.
Fogler also stressed that there's nothing changing with respect to TV service in Google Fiber's existing service areas, but noted that "more and more of you are choosing Internet-only options from Google Fiber."
That seems to be reflected in Google Fiber's subscriber makeup, with TV service being less than a must-have for many. Google Fiber hasn't announced how many internet subs it has, but it ended 2016 with a mere 84,232 of them.
RELATED: Google Fiber Ended 2016 With 84,232 Pay TV Subs: Study
The smarter way to stay on top of the multichannel video marketplace. Sign up below.