Fox Seeks More Ad 'Engagement' via Hulu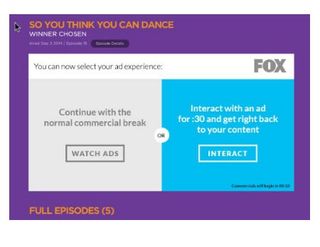 Hulu recently launched an ad-free option for subscribers who don't mind paying a few dollars more, but the over-the-top video provider and one of its close programming partners (and part owner) are still working on ways to keep its other viewers tuned in when commercials appear on-screen.
Fox Network Group announced Tuesday that, for the first time, Hulu will offer its subscribers the option to pick "engagement" spots when they watch Fox shows via the OTT service.
Those ads, powered by 21st Century Fox subsidiary true[X] (Fox bought the advanced ad specialist in 2014 for $200 million), will let viewers pick a 30-second, interactive engagement ad that runs at the front end of the show, versus a heavier "interruptive" ad loads that are interspersed during a TV show and typically span about 2 minutes and 30 seconds
In addition to reducing the "ad clutter" created by interruptive ads, engagement advertising technology, they claimed, is superior "because it's 100% viewable, 100% bot-free, and guarantees the full attention of the viewer."
"Like Hulu, true[X] has been a pioneer of interactive advertising formats. We are pleased to partner with true[X] to bring choice based advertising to viewers watching Fox Networks Group Content," Hulu CEO Mike Hopkins said in a statement about the initiative.
Mondelēz International, the snacking powerhouse behind brands such as Nabisco, Nutter Butter, Oreo, Ritz, Wheat Thins, Swedish Fish, and Cadbury, said it will run engagement ad units for FNG's launch of the format on Hulu.
Early on, the engagement ads via Hulu will be available on Web browsers, tablets and other mobile devices, but longer-term the plan is to offer that capability on TV-connected boxes, Joe Marchese, founder of true[x] and president of advanced advertising at the Fox Networks Group, told The Wall Street Journal.
"The whole purpose is to get out this heavy ad-loading environment, where consumers are ad blocking and consumers are ad avoiding," he told the publication. "We need to start fixing the interruptive ad model."
The engagement ad launch with FNG is just one way Hulu has been exploring new ad technologies. In August, Hulu announced it would launch a programmatic platform for marketers this fall that's powered by LiveRail, the ad-tech firm that Facebook acquired last year.
The smarter way to stay on top of the multichannel video marketplace. Sign up below.
Thank you for signing up to Multichannel News. You will receive a verification email shortly.
There was a problem. Please refresh the page and try again.