FirstNet Needs Integrated Technical Collaboration, CEO Says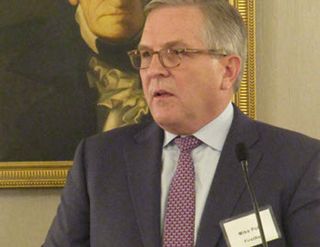 Establishing an integrated first-responder communications system is all about the details, not just the big picture overview and goals.

That reality became obvious as Michael Poth, CEO of The First Responder Network Authority (FirstNet), explained the agency's objectives to a Media Institute monthly luncheon in Washington on Feb 15.

Poth (pictured) cited "improved situational awareness" as a keystone of the FirstNet project, but also acknowledged that the near-term requirement is "getting technology to first responders using the technology that now exists."

"Our biggest concern is that it [the FirstNet system] gets built out and the technology gets into the hands of first responders," Poth said. His short presentation listed the value of a nationwide, uniform, interconnected service to assure that police, fire, emergency medical crews and military units are congruently aware of situations they are resolving. FirstNet is a nationwide public safety broadband network for local, state, regional, tribal, and federal first responders.

After describing the 25-year agreement that FirstNet contracted with AT&T last March, Poth issued what he called "an appeal to all" in the audience -- mostly media and telecom lawyers and lobbyists. He pointed out that there are more than 60,000 public service agencies in the U.S., with historically fragmented communications capabilities. Congress established FirstNet after the 9/11 attacks as an independent authority within the Commerce Department's National Telecommunications and Information Administration.

"We have to push our organizations to solve these problems" of interconnection, Poth said. He emphasized that AT&T has committed $40 billion over the next 25 years to manage and operate the network.

Poth also acknowledged the value of "integrating the core AT&T network with other facilities," such as public TV spectrum after a public television executive in the audience pointed out that public TV stations have committed 1 MHz to public safety service.

Poth also offered an overview -- but no details -- about the equipment that will be used by local first responders, saying merely that the scale of the project will encourage hardware suppliers to enter the market. He cited collaboration with 24 other countries that are also expanding their emergency service networks, thus adding to the global opportunities for hardware suppliers.

Poth cited the value of an integrated First Response system for situations such as the recent California wildfires, where firefighters from dozens of distant jurisdictions converged at the fire sites, but brought their own non-compatible equipment. He said that a top FirstNet objective -- as part of the AT&T agreement -- is to assure that such problems are eliminated. He did not offer a timetable.

In December, AT&T announced that all 50 states plus the District of Columbia and Puerto Rico have opted into FirstNet. In exchange for managing the project, AT&T will get 20 MHz of wireless spectrum plus $6.5 billion to build the initial network. Poth explained that AT&T will be able to use the spectrum at times when it is not needed for emergency communications. AT&T has said it expects its invest up to $40 billion in the network during the coming 25 years.
Contributor Gary Arlen is known for his insights into the convergence of media, telecom, content and technology. Gary was founder/editor/publisher of Interactivity Report, TeleServices Report and other influential newsletters; he was the longtime "curmudgeon" columnist for Multichannel News as well as a regular contributor to AdMap, Washington Technology and Telecommunications Reports. He writes regularly about trends and media/marketing for the Consumer Technology Association's i3 magazine plus several blogs. Gary has taught media-focused courses on the adjunct faculties at George Mason University and American University and has guest-lectured at MIT, Harvard, UCLA, University of Southern California and Northwestern University and at countless media, marketing and technology industry events. As President of Arlen Communications LLC, he has provided analyses about the development of applications and services for entertainment, marketing and e-commerce.
Thank you for signing up to Multichannel News. You will receive a verification email shortly.
There was a problem. Please refresh the page and try again.