FCC General Counsel Touts Agency's Deregulation Efforts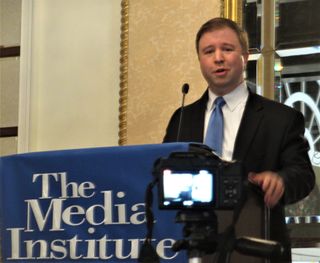 It took 40 years for the FCC to find a way for TV and wireless to coexist in the spectrum, proof that "regulators are not good futurists," Federal Communications Commission General Counsel Thomas M. Johnson Jr. acknowledged as he opened his remarks to the Media Institute's monthly luncheon in Washington on Wednesday (May 15).
 His otherwise optimistic remarks -- which ranged from the value of telecom reform legislation to his belief that the FCC will prevail in "Prometheus 4" (the fourth review of the cross-ownership case PrometheusRadio Project v. FCC) -- included support for the emerging ATSC 3.0 next-gen broadcast standard and enthusiasm for Chairman Ajit Pai's Media Modernization efforts.
He also lauded Pai's efforts to create "more flexible use of spectrum," an effort driven by the race to 5G.
"We are on the precipice of developing a next-generation wireless, mobile communications network that will grow our GDP by billions and add millions of jobs to the American economy," Johnson said. "We're going to need smart regulations to clear the red tape and incentivize the deployment of new infrastructure. This will be the future of connectivity."
Johnson cited Pai's newly drafted Report and Order dealing with the "Modernization of Media Regulation Initiative," which updates the commission's 1990s leased-access rules. 
The order has been teed up for a vote at the FCC's June 6 meeting.
He said that the cable access rules, originally intended to "promote diversity and competition in the video programming marketplace," are no longer valid.
Johnson explained that the FCC's 2008 proposed new leased access rules made "leased access more onerous, not less." Those rules never went into effect due to a judicial stay and other administrative barriers. As a result, Johnson pointed out, "the operative rules remain those that the commission passed nearly a quarter-century ago." He said that the new draft order "cleans the slate by vacating the commission's troubled 2008 order [and] acknowledges the explosion in available platforms to distribute programming." Most significantly, Johnson added, "We will also seek comment on whether our leased access requirements can withstand First Amendment scrutiny today in light of changes in the video programming marketplace." 
One of the proposals, FCC Chairman Pai blogged Wednesday, is "to eliminate the requirement that cable operators make leased access available on a part-time basis since there are plenty of other avenues for content creators to make available short-form programming."
'Humility' in Regulatory Approach; Vision for New Ventures
Johnson's speech was entitled "Humility Is the FCC's Primary Regulatory Virtue," which became his tongue-in-cheek way of acknowledging the agency's missteps through the decades, including policies that limited wireless expansion as long ago as the 1960s. But he quickly turned it into a self-congratulatory explanation that the current commission "has updated old rules to match the realities of today's marketplace and has worked hard to enable the deployment of new communications technologies that will improve the lives of all Americans."
Johnson cited the creation last year of the FCC's Office of Economics and Analytics, which does cost-benefit analyses of the FCC's major rulemakings "to ensure that any new regulation is justified ... including the alternative of not regulating at all."
"By establishing this office ... the commission has injected humility into its organizational structure," Johnson said.
As for the FCC's review of children's TV rules (KidVid), he emphasized that "children's educational programming is available not only on broadcast television, but also through over-the-top providers, cable channels, and the Internet." The FCC's rules -- last updated in 2006 -- require an examination to determine if they "still make sense in today's media marketplace," he said.
In response to a question about the competitive opportunities for ATSC 3.0 in non-broadcast services [data transmission, wireless backaul], Johnson said that he expects that Pai's "light-touch approach" to next generation services will mean that "new and traditional media can compete" against each other.
On another topic -- regarding the FCC's ability to handle so many diverse regulatory functions -- Johnson pointed out that several of the commissioners and many other top agency officials have previously held the post of general counsel, giving them a sound background in the policies that they are now deciding, including topics that are "likely to get challenged." He did not address the in-breeding hurdles of such career paths within the agency.
As for potential Telecom Act reform, Johnson said, "There's always room for Congress to be clearer about how to delegate authority to the Commission." Replying to a Multichannel News question about a possible update to the 1996 Telecom Act, he said that the law "reflects what we had then" and noted that it "has produced a lot of litigation."
Johnson said he savored the idea of "flexibility" and that the commission would welcome a "fresh look" that "would make it easier for the FCC to do its job." But he did not speculate on the prospects for near-term Congressional action to revise all or parts of the existing law.
The smarter way to stay on top of the multichannel video marketplace. Sign up below.
Thank you for signing up to Multichannel News. You will receive a verification email shortly.
There was a problem. Please refresh the page and try again.