FCC Bashing on Multiple Fronts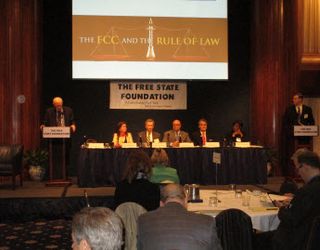 The "interplay" of three pending FCC issues -- the "unlocked" set-top box proposal, privacy rules and "the ultimate resolution of net neutrality -- is impeding cable industry development and improperly putting "a government imprimatur on the notion of competition," NCTA president/CEO Michael Powell said March 23 at the Free State Foundation's Eighth Annual Telecom Policy Conference.
Expanding his criticism of several FCC initiatives, Powell cited the agency's "biases [towards] the development of tech companies" that "makes it possible for tech companies to invade our traditional areas" but prohibits cable firms from moving in their direction.
He singled out the recent privacy proposal that would affect Internet Service Providers (including cable operators) in different ways than it would impact content or application suppliers.
"Privacy is not controversial; it is the hypocritical inconsistency that is controversial," Powell said. "You cannot describe that data collection and monetization is the justification for this level of rules while ignoring the fact that [similar actions] take place on every other platform that consumers use."
Powell challenged the FCC to find a way to differentiate "between the value of privacy and personalization" without taking a heavy-handed approach.
He also slammed the set-top box proceeding, saying that it "perfectly encapsulates government intervention."
"You cannot find one soul who doesn't recognize that there is no market that is shifting more than video delivery," Powell emphasized. He said cable has lost 50% of its market share to new entrants, referring to telco TV and over-the-top operators. "This market is on fire." He called the FCC's STB plan a "rent transfer" decision and an "unrestrained violation" of its role.
"All costs will be borne by customers," Powell said. He pointed out that the proposal will take at least five years to implement, "by which time the market will have changed." The commission should not "pick winners and losers," Powell said.
His criticisms came during a panel of association executives discussing "Hot-Topic Communications Issues," part of a day-long program that included FCC commissioners Michael O'Rielly and Mignon Clyburn plus Federal Trade Commission member Maureen Ohlhausen. FSF's intent was to explore "the FCC and the rule of law," although many of the speakers focused on perceived abuses of power.
Even FCC general counsel Jonathan Sallet, in a conversation with FSF president Randolph May that was centered on procedural processes at the commission, conceded that "more direct conversations between commissioners would be a very helpful step." Sallet, who recommended changes to sunshine laws "so that commissioners can deliberate," acknowledged that the FCC could use more input on many topics it is reviewing.
"Sometimes we know issues are in flux and we need to know more," he said.
Right-leaning FSF's agenda began with politicized rhetoric when keynoter Rep. Marsha Blackburn (R-Tenn.) lambasted the FCC and singled out chairman Tom Wheeler as "a bull in a china shop." Blackburn, vice chair of the House Energy and Commerce Committee and a member of its Communications and Technology Subcommittee, characterized the FCC staff as having "failed to exercise regulatory humility," citing its recent effort to oversee privacy, which she said is the FTC's responsibility.
"The FCC does not have the necessary expertise to oversee privacy," she said. "It is arguing for a solution that is one-sided and focused only on one part of the Internet ecosystem."
Blackburn also plowed into the issues of unlocked set-top boxes and municipal broadband, citing that Memphis "is $27 million in the hole" from its flirtation with such plans, and "the list of failures goes on and on."
"It's the government's job is to create an environment that encourages competition, not to create a system where the government is the competition," she said. "If the state decides to create broadband networks, so be it, but "the FCC has no right" to butt in.
As for the open STB issue -- which she referred to under the old "All-Vid" name -- Blackburn said, "Nashville content creators are absolutely baffled by what the FCC is trying to do." She contended that the FCC plan would encourage theft and could create conflict between FCC policy and business contracts between content producers and carriers.
"It has created a tremendous amount of confusion," Blackburn said.
"The FCC's decision-making has frustrated content makers, the telecom industry and policy makers," she concluded, emphasizing that telecom "has thrived under light-touch regulation."
Diplomatic Commissioners
FSF's May sought to explore possibilities for less politicization and more "collegiality" among FCC commissioners during his "fireside chat" with O'Rielly and Clyburn, with a series of "can't we all just get along" questions. Both officials initially tried to be cordial.
O'Rielly: "I get along with my colleagues very well. ... I try not to let one issue color my feelings about the next one."
Clyburn: "My compass is serving the public interest. We're not in a vacuum."
And then they got into specifics, where political polarization quickly emerged. They disagreed on the STB plan.
"Words have meaning," O'Rielly said about the chairman's perception that software is part of the STB revision. "When Congress wrote 'equipment,' it didn't mean 'software.'" The direction toward applications and software has nothing to do with the statute and is "problematic," he added.
Clyburn insisted that "Congress envisioned a robust marketplace...whatever the interface is." She said that the plan is focused on "whether this is a non-competitive marketplace."
Similarly, on the privacy issue, O'Rielly pointed out that "our expertise, the number of people at the FCC working on privacy is small, compared with expertise at the FTC." Clyburn said she doesn't use the word "duplicate" but rather focuses on "context," considering the two agencies' efforts "complementary."
"We work together to insure that expectations are met," Clyburn said.
And again when discussing the Open Internet situation, she emphasized "flexibility and innovation," while O'Rielly insisted, "You can never have certainty when you have no structure."
"That's what the chairman created under the 'net neutrality rule," O'Rielly said.
They also sparred over proposals for "lifeline" services. O'Rielly said he prefers "a hard budget rather than a [percentage] cap," while Clyburn insisted that the plan "removed duplicates, put in discipline and [provided] a lot of accountability."
The panel of association executives, which included (in addition to NCTA's Powell) CTIA president/CEO Meredith Baker; U.S. Telecom Association president/CEO Walter McCormick; NARUC general counsel Brad Ramsay; and Nicol Turner-Lee, VP of the Multicultural, Media, Telecom and Internet Council, continued the blast of the FCC rulemakings and its process.
Regarding muni cable, Ramsey said, "The FCC is telling the state what to do." He predicted if the Sixth Circuit appeals court in Cincinnati, which is reviewing challenges by Tennessee and North Carolina to the FCC's muni cable ruling, sides with the FCC, the case is likely to go to the Supreme Court and it will be reversed.
McCormick focused on FCC decisions that are "slowing investment in the industry. "
"We've seen that in every year since the recession, there were increase in broadband investment up until Title II," he said, referring to the FCC's 2014 ruling to regulate broadband. McCormick said that annual investment growth for the industry dropped from 9% to almost nothing, contending that the privacy issue has further muddied the financial market's view of telecom. He criticized FCC policies as thwarting "the full development of the telecom industry."
The CTIA's Baker focused on 5G (fifth generation) wireless as a "life-changing technology," calling it the "high-speed spectrum frontier." She emphasized the Internet of Things opportunities.
Most of the panelists were also critical of President Obama's intervention in the net -neutrality decision rulemaking which led to the now-contested Title II decision.
"It sets a bad precedent," Powell said. "Future administrations will use it as a precedent. We might as well have a Secretary of Communications."
At an afternoon session wrapping up the "rule of law" theme, AT&T senior VP Robert Quinn promoted the value of a revision of the Communications Act.
"We have to go back to the drawing board," he said. "The Act really doesn't contemplate the kinds of things we're doing differently with the Internet. We compete with everyone."
FSF's May said that this year's event was the best-attended conference in its eight years.
The smarter way to stay on top of the multichannel video marketplace. Sign up below.
Contributor Gary Arlen is known for his insights into the convergence of media, telecom, content and technology. Gary was founder/editor/publisher of Interactivity Report, TeleServices Report and other influential newsletters; he was the longtime "curmudgeon" columnist for Multichannel News as well as a regular contributor to AdMap, Washington Technology and Telecommunications Reports. He writes regularly about trends and media/marketing for the Consumer Technology Association's i3 magazine plus several blogs. Gary has taught media-focused courses on the adjunct faculties at George Mason University and American University and has guest-lectured at MIT, Harvard, UCLA, University of Southern California and Northwestern University and at countless media, marketing and technology industry events. As President of Arlen Communications LLC, he has provided analyses about the development of applications and services for entertainment, marketing and e-commerce.