Enhancing, Engaging and Expanding the Video Repertoire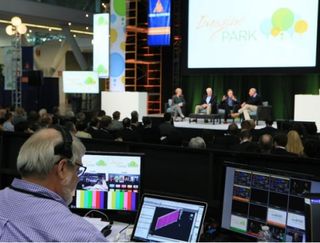 BOSTON -- The expected consumer appetite for virtual reality and high-quality video -- such as Ultra High Definition and High Dynamic Range content -- plus the eagerness of program producers to exploit the new display technologies will "drive the need for the gigabit home," says Charles Cheevers, chief technology officer-customer premises at Arris. He envisions data rates "could be as high as 500 Megabits per second: 100 times faster than current high definition TV technology."
Cheevers's big bitstream dreams were part of his overview about the need to "widen the lanes to download the image" during his remarks at an INTX Imagine Park session on "Immersive Storytelling: How VR and Ultra HD are Mesmerizing Viewers."
His hardware and network management orientation capped an hour of presentations Tuesday morning from entertainment, reality and news producers who are pushing advanced video content into cable and OTT pipelines. Cheever also dealt with tricks to handle the massively greater bandwidth requirements -- such as "foveated rendering," a processing technique for displaying UHD and other signals. With viewers' eyes focused on the center of the screen, peripheral material (around the edges of the picture) can be displayed at a lesser resolution, thus conserving some bandwidth.

Whatever happens, Cheevers explained, the upgraded video demands "are going to affect the architecture" of the systems.
"We need to work with headset and device makers to assure a symbiotic relationship," he said.
Cheevers's remarks came on the heels of presentations that offered glimpses of the programming coming to cable from unexpected virtual reality producers such as the Associated Press as well as from familiar narrative producers.
Nora Ryan, executive VP and chief of staff at EPIX, focused on the "interactive overlay" that will be a key feature in the 10-episode Berlin Station series that will debut in September.

"We're using virtual reality and 360-degree experiences to engage fans in the show," Ryan said, emphasizing that the 360-degree views "get to a much broader audience without using headgear." The production used drones and other tools to explore the visual realm. "Where else can we take the viewer?" Ryan asked rhetorically.
In July, about two months before the series debuts, EPIX will begin offering "extended story telling" via BerlinStation.com, showing enhanced material -- not merely a second-screen experience, Ryan said. (See VR Adds Thrills to EPIX's 'Berlin Station' in the May 16 edition of Next TV, subscription required.)
Nathan Griffiths, interactive editor at the Associated Press, described the news agency's plans to delve deeper into VR and viewer-controlled immersive stories. "We think there's a big market for timely, newsy 360-degree content," he said, adding that AP is working with several large customers to create such content. He demonstrated a video that AP produced at the refugee camps in Calais, France, where people are awaiting transport to England.
He acknowledged that there was a "fairly high amount of post-production" which slowed down delivery of the video story. But he expects that new technology will make it possible to complete future productions overnight.
As for the value of such immersive reports, Griffith characterized it as "the first time you have the feeling of empathy, where you feel emotionally connected to the story." But he warned that developers should "prepare for it to be more work than you expected."
On another front, "bringing High Dynamic Range to the consumer," Craig Heiting, senior VP of business development at Deluxe OnDemand, also acknowledged that introducing the new technology will be "more complicated." Predictably he touted the value of using managed services -- such as the ones that Deluxe provides -- to facilitate the delivery of HDR, which he called "a game changer."
"We'll see improvements in HDR12, already in the works, that provides an even better color gamut," Heiting said. He stressed that "the MVPD industry will be faced with improvements in brightness and other factors" that consumers will demand as part of the ever-increasing roster of visually dynamic content.
Rian Bester, CTO of Insight Ultra HD, an entertainment reality network, reinforced that view with his demonstration of action-adventure videos, the core offering of his new network. It pushes out images at 25 Mbps -- a more demanding level than Netflix's 16 Mbps rate, Bester said.

Bester's comments -- along with the other immersive demonstrations -- queued up the opportunity for Arris's Cheevers to punch home his message about the need for faster, sturdier capabilities for the overwhelming video demands facing network operators.
(Photo of Imagine Park at INTX 2016 via intxshow.com/photos.)
Contributor Gary Arlen is known for his insights into the convergence of media, telecom, content and technology. Gary was founder/editor/publisher of Interactivity Report, TeleServices Report and other influential newsletters; he was the longtime "curmudgeon" columnist for Multichannel News as well as a regular contributor to AdMap, Washington Technology and Telecommunications Reports. He writes regularly about trends and media/marketing for the Consumer Technology Association's i3 magazine plus several blogs. Gary has taught media-focused courses on the adjunct faculties at George Mason University and American University and has guest-lectured at MIT, Harvard, UCLA, University of Southern California and Northwestern University and at countless media, marketing and technology industry events. As President of Arlen Communications LLC, he has provided analyses about the development of applications and services for entertainment, marketing and e-commerce.
The smarter way to stay on top of the multichannel video marketplace. Sign up below.
Thank you for signing up to Multichannel News. You will receive a verification email shortly.
There was a problem. Please refresh the page and try again.