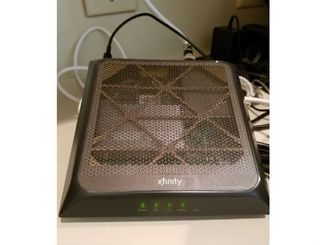 Comcast's deployment of DOCSIS 3.1 is still technically in the "advanced consumer trial" phase ahead of a broader commercial rollout of the new platform, but evidence of that early handiwork is starting to emerge.
A Comcast subscriber in Atlanta, for example, signed on for the trial and shared some details of the installation on the DSL Reports message boards. That customer, "lawguru," confirmed that the Comcast trial is utilizing a stand-alone DOCSIS 3.1 modem from Technicolor, which was among the first vendors to achieve DOCSIS 3.1 certification from CableLabs. Technicolor announced its involvement in the Comcast D3.1 trial in Atlanta back in April.
Notably, Comcast is pairing that Technicolor device with a Netgear Nighthawk AC3200 gateway, at least for now.
But don't expect that combination to be part of the long-term game plan.
Comcast's Jason Livingood weighed in on those boards to note that the bundling of those two devices for D3.1 "is temporary for this phase," as eventually the service will feature an integrated device that combines the broadband access and home networking capabilities. But he also expects vendors to make standalone D3.1 modems for retail sale.
"Full scale production is likely to be very different. So don't conclude too much on the device itself," Livingood wrote.
Comcast previewed its D3.1-powered Gigabit Home Gateway at the 2015 INTX, and, more recently, has begun to talk up the XB6, a multi-service gigabit wireless gateway that will also support Comcast's Xfinity Home service.
The installation details in Atlanta arrive amid Comcast's initial D3.1 rollout, currently comprised of consumer trials Atlanta and Nashville (a Nashville customer noted this week that Comcast just made contact about setting up an installation date), with plans underway to extend access later this year to Chicago, Detroit and Miami.
During the trial phase of D3.1, Comcast is advertising a service that maxes out at 1 Gbps downstream and 35 Mbps upstream for $70 per month to customers who agree to a three-year contract, or $139.95 without it.
The D3.1 customer in Atlanta shared some speed tests results, The first one posted clocked in at 933 mbps down by 38 Mbps up, followed by a second one that delivered 957 Mbps down by 42.1 Mbps up.
The smarter way to stay on top of the multichannel video marketplace. Sign up below.